Building on Strong First Quarter, Teva Raises 2018 Outlook
The company reported a 10% decrease in revenues compared to 2017, largely due to North American Copaxone troubles, but beat analyst expectations
On Thursday, Teva Pharmaceutical Industries Ltd. published its first quarter results for 2018, announcing revenues of $5.1 billion, 10% down from the $5.4 billion it reported for the first three months of 2017. That said, analysts forecasted revenues of $4.8 billion.

For daily updates, subscribe to our newsletter by clicking here.

The company's GAAP gross profit was $2.3 billion, a 17% decrease year to year, but its non-GAAP earnings per share (EPS) of $0.94 far exceeded the forecast, which was $0.67. Teva's free cash flow for the quarter was $1.9 billion.

Based on its results, Teva raised its non-GAAP EPS full-year guidance from $2.25-2.50 to $2.40-2.65, and its free cash flow, critical to its debt covenants, from $2.6-2.8 billion to $3.0-3.2 billion.

Teva is up as much as 4.25% on NYSE.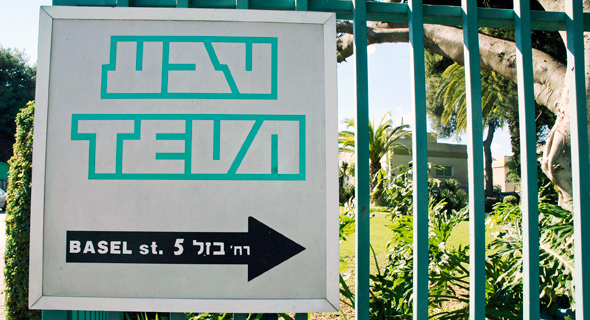 Teva. Photo: Bloomberg

In December, Teva's new CEO Kåre Schultz launched an extensive and wide-reaching reorganization program that includes asset divestment, portfolio streamlining and the layoff of 25% of the company's global employees. The reorganization is intended to stabilize the company's dire financial situation and enable it to repay its debt of over $30 billion, accrued as a result of its ill-fated $40.5 billion acquisition of Allergan's generic unit Actavis in 2016. In March, the company announced its intention to raise $4.5 billion in senior notes offering to repay its short-term loans.

"Our restructuring program is proceeding well, and we are on track to meet our cost reduction targets of $1.5 billion in 2018 and $3.0 billion by the end of 2019," Mr. Schultz said in a statement. "During this quarter, our strong cash flow allowed us to continue to reduce our outstanding debt, and together with our recent debt issuance and covenant amendment, has placed Teva on a more stable financial footing."

As part of its reorganization, Teva regrouped its generic and specialty businesses under one commercial umbrella, with three main divisions in North America, Europe, and growth markets. The current results are therefore reported according to the new segments for the first time.

Revenues for the U.S. were $2.4 billion for the quarter, a 23% decrease year to year, mainly due to a 40% drop in revenues from Copaxone, Teva's long-time multiple sclerosis blockbuster drug which saw generic competition launch in the U.S. in October. Revenues from generic products decreased by 23% year to year, continuing the trend of price erosion seen in the U.S. generic market over the past two years. Overall, Teva reported gross profit of $1.4 billion for North America, a 31% decrease year to year.

For the European segment, Teva reported revenues of $1.44 billion, an increase of $101 million, or 8% year to year. Gross profit was $797 million, an increase of 9%. However, the company stated that in local currency terms, its European revenues decreased by 6%, mainly due to the loss of revenues from the closure of its distribution business in Hungary and the sale of its women's health business. Copaxone revenues increased by 1%, but decreased by 13% in local currency terms.

For the growth markets segment, which includes all countries excluding North America and Europe, Teva reported revenues of $750 million, a 4% increase year to year, but stated that in local currency terms, revenues were flat compared to the first quarter of 2017. Copaxone revenues fell by 24%, or 20% in local currency terms.