Israel is One of the Three Countries Alibaba is Considering for Expansion, Says Jack Ma
The Alibaba founder and chairman answered student questions at Tel Aviv University, where he received an honorary doctorate Thursday night
On Thursday night, three days after arriving in Israel, Alibaba Founder and Chairman Jack Ma visited Tel Aviv University to receive an honorary doctorate from the institute. During the ceremony Mr. Ma spoke about his experience as an English teacher, about Alibaba's past and future, and said Alibaba might consider expanding to Israel.
For daily updates, subscribe to our newsletter by clicking here.
As part of the visit, Mr. Ma met with Israel's Prime Minister Benjamin Netanyahu, with the country's Minister of Economy Eli Cohen, and with local companies and investors, including Jerusalem-based venture capital fund Jerusalem Venture Partners (JVP), of which Alibaba is a limited partner. He also toured Orcam, developer and manufacturer of visual aid devices for the blind and visually impaired, which was founded in 2010 by Mobileye co-founders Ziv Aviram and Amnon Shashua.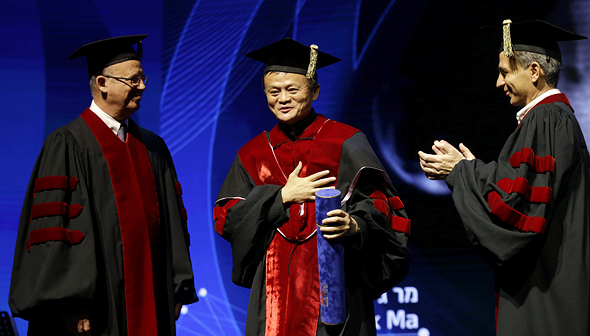 Jack Ma receiving an honorary doctorate from Tel Aviv University. Photo: Amit Sha'al
Israel is one of the three countries Alibaba is considering expanding to, Mr. Ma said Thursday.
Speaking with students at the ceremony, Mr. Ma said that he himself was not a good student and was rejected from higher education again and again. He only became a teacher because his state-funded education mandated it. But after his requisite five years, he was chosen by his students as their top teacher. Mr. Ma explained that at the time he left teaching to gain real-world knowledge he could later impart to his students, but then he came to the U.S. in 1994 and discovered the internet.
The first word he searched for was beer, Mr. Ma said, but he couldn't find any online information about Chinese beers, so he decided to upload information about China and Chinese companies.
Mr. Ma says he never thought Alibaba would become what it is. With a current market capitalization of over $466 billion and over 50 thousand employees, Alibaba currently trails Amazon as the second largest ecommerce company in the world. When one has over $100 billion, "it becomes a social responsibility," Mr. Ma said.
"We created 33 million jobs in China, and we can create 100 million," Mr. Ma said, adding that it may not happen in his lifetime, but his predecessors will continue his work.
When asked by a student for the best advice he could give young people today, Mr. Ma said the most important thing is not to be afraid of failure, and to not give up. There are a lot of opportunities in the world because there are a lot of unmet needs, he added. Had he written a book, Mr. Ma said, it would have been "Alibaba's 1001 Mistakes."
At the time of its foundation, Mr. Ma said, Alibaba's team was made up of only 18 people, some of them his students. "Today people think we were very smart, but it's not true," he said. They were, however, optimistic and ambitious and learned from their mistakes. People looked down on the company because of its weird name, and the company was spurned by job applicants with higher degrees. For that reason, Mr. Ma explained, he does not place much impotance with an applicants' education, and why Alibaba believes in helping small and medium-sized companies.
The education system as a whole needs to change, Mr. Ma said, and children must be taught to tap into their more human side and be more creative and innovative. Alibaba is also looking to hire psychologists and human behavior experts, he added.
Over the next 30 years robots will take over many of today's jobs, Mr. Ma said, but people under 30 are those who will change the world.
Asked about the best professional advice he was given, Mr. Ma revealed an anecdote from Alibaba's early days.
Alibaba's first two years were a disaster, Mr. Ma said: the company had no business model and people in China did not believe the internet had any merit. Then he was advised by a certain person to focus on two things—employees, and vision. Taking the advice to heart, Mr. Ma said, he poured his efforts into training teams. Talent development, he added, is what seta Alibaba apart even today, and what it needs to do to continue to exist.
The one thing that is not known in public about himself, Mr. Ma said, is that he is a great singer in the shower, but less so in public. He also likes to paint, he said, though he is not classicaly trained.
"There are three Jack Ma," he explained: The first is the person people imagine, who is extraordinary; the second is Alibaba's chairman, and that's not an easy job; he himself likes to connect with people, and to have fun, as he came from poor background. The latter is also the source of his wish to retire early and go back to being himself.
Mr. Ma is accompanies in his visit in Israel by senior Alibaba executives, and heads of Alibaba's subsidiaries, including the CEO of online shopping service Taobao, the head of Alibaba's health information technology subsidiary; the head of Alibaba's cloud computing business, the head of Alibaba's artificial intelligent business, senior officials from fintech company Ant Financial, an affiliate of Alibaba Group, and the managers of video site Youku Inc.