Wizz Air to launch Sixth Direct Route Between Romania and Israel
A new route connecting Tel Aviv and Sibiu, Romania is set to begin operating in July
Hungarian low-cost airline Wizz Air Holdings PLC is set to launch a new direct route between Sibiu, Romania and Tel Aviv in July, the company announced Monday. This is the sixth Wizz Air operated route connecting Israel and Romania. The carrier already operates routes from Tel Aviv to Bucharest, Cluj-Napoca, Timisoara, Craiova, and Iași.

For daily updates, subscribe to our newsletter by clicking here.

The number of Romanian tourists arriving in Israel has been rising sharply in recent years. According to data by the Israeli tourism ministry, in the first quarter of 2018 there has been a 70% rise in the number of Romanian nationals visiting Israel compared with the same period last year, and a 165% rise compared with the same period the year before.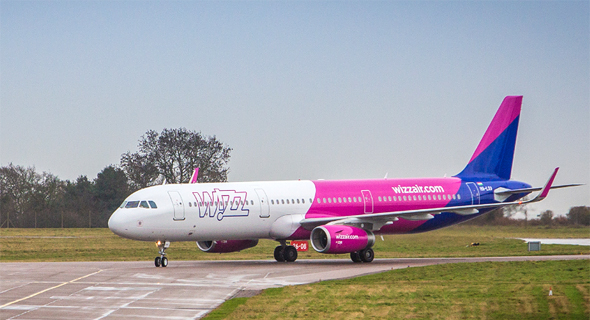 Wizz Air. Photo: PR

In 2017, 78,900 Romanian tourist entered Israel, compared with 48,800 in 2016 and 43,200 in 2015. According to a survey conducted by the tourism ministry, the average Romanian tourist stays in Israel an average of 6.3 days, spending on average $761 during her or his stay. The ministry of tourism also found that the majority of Romanian tourists visiting Israel identify as Christian, with many stating they are visiting for religious purposes.

Wizz Air is set to receive a one-time grant of $595,000 (500,000 Euros) from the Israeli Ministry of Tourism for launching the new route. Wizz Air currently operates 19 routes from Israel to 10 countries in Europe.