Drip-Irrigation Pioneer Netafim Unveils Automated Irrigation System
The system provides farmers with real-time recommendations sent to a mobile app, based on data gathered from sensors
Ran Maidan, CEO of Israel-based drip-irrigation pioneer Netafim Ltd., unveiled on Tuesday a smart irrigation management platform. Called NetBeat, the system provides farmers with real-time recommendations sent to a mobile app, based on data gathered from sensors, including data about plants, soil, and weather, as well as from satellite images and weather forecasts.
For daily updates, subscribe to our newsletter by clicking here.
The system can deliver fertilizers and pesticides as well as water, Mr. Maidan said, speaking at the Agrivest Israeli agricultural tech event held in Tel Aviv.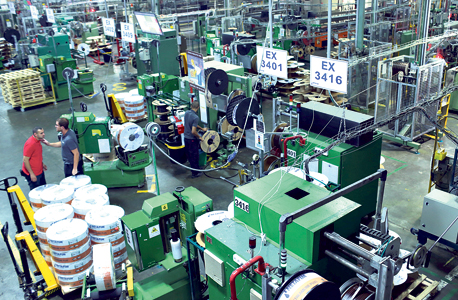 A Netafim manufacturing plant. Photo: Amit Sha'al

Located near the southern Israeli town of Be'er Sheva, Netafim was founded in Kibbutz Hazterim in 1965. A pioneer of plastic-based, water-efficient drip irrigation systems, the company now operates in over 100 markets worldwide through 29 subsidiaries. Netafim employs over 4,500 people in 17 manufacturing plants. In 2016, it generated $855 million in revenue.

In February, Mexico-based pipes and chemicals company Mexichem SAB de CV has completed the acquisition of an 80% stake in Netafim Ltd. at a $1.9 billion company valuation.

"Adoption of advanced agricultural technologies, including innovative digital solutions, is becoming increasingly necessary to address the growing need for greater food production while ensuring more efficient use of natural resources," Mr. Maidan said in a statement released Tuesday.