Viral-Bacterial Blood Test Company MeMed Gets Comparative Vote of Confidence
A study by Israeli medical researchers compared the company's automated test to similar ones and found it has the potential to reduce antibiotic overuse by almost 90%
Israel-based automated medical diagnosis startup MeMed Diagnostics Ltd. has received a vote of confidence for the accuracy of its viral-bacterial blood testing device from a team of Israeli medical researchers, the company announced Tuesday. Some of the authors of the article that details the results are MeMed employees.
For daily updates, subscribe to our newsletter by clicking here.
MeMed, founded in 2009, develops and markets an automated blood testing device capable of diagnosing whether an infection is bacterial or viral—both often presenting with similar symptoms—based on the presence of specific proteins in the blood. Antibiotics are only used for treating bacteria, not viruses, and incorrect prescription can not only cause harm to patients and have a steep price tag, but also lead to the creation of antibiotic-resistant bacteria, also known as "superbugs."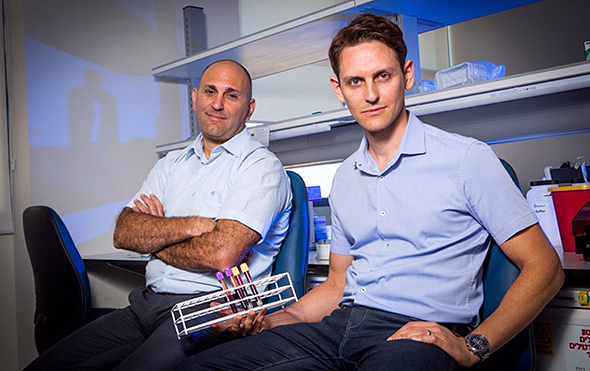 MeMed co-founders Kfir Oved (left), and Eran Eden (right). Photo: Shlomi Yosef
According to MeMed, its first generation device can provide highly accurate answers within minutes to hours, compared to traditional tests that can take days. The company is currently developing a second generation device that will not necessitate lab access. MeMed raised around $30 million in equity investments so far, and over $25 million in grants from governmental entities, including the U.S. Department of Defense and the European Commission.
MeMed's device, which is certified in the European Union, has been previously validated in two double-blinded studies. The current team, composed of researchers from Israeli Schneider Children's Medical Center studied the test specifically for patients with respiratory infection (both upper and lower) and fever without source. Based on 314 patients, they compared MeMed's protein-based test to other methods that use biological markers to test for infection, and to clinical prediction rules.
According to the study, published in April in European Journal of Clinical Microbiology & Infectious Diseases, MeMed's test was more accurate than any other method tested, including standard laboratory parameters used for patients with infections. MeMed's analysis also identified 50 out of 57 patients that were already given a prescription for antibiotics as suffering from a viral infection, "suggesting potential to reduce antibiotic overuse by 88%," according to the study.
"Rapid and actionable diagnostic tools can help physicians make better informed antibiotic treatment decisions," said in a statement Liat Ashkenazi-Hoffnung of Schneider Children's Medical Center, a co-lead researcher. "The demonstrated potential to reduce unwarranted antibiotic prescription by almost 90% is a key finding."