Interview
There Are No Winners in Trade Wars, Says Primavera Capital Founder Fred Hu
Planned tariffs for Chinese imports will hurt American consumers and American manufacturers dependent on parts from China, said Mr. Hu, who led Goldman Sachs to become one of the earliest investors in Chinese e-commerce behemoth Alibaba
There are no winners in trade wars, Primavera Capital Group's founder and chairman Fred Hu said in a May interview with Calcalist. Planned tariffs for Chinese imports will hurt American consumers, and American manufacturers dependent on parts from China, said Mr. Hu, who led Goldman Sachs to become one of the earliest investors in Chinese e-commerce behemoth Alibaba Group Holding Ltd.

For daily updates, subscribe to our newsletter by clicking here.

Staring out of a 17-story window at the Tel Aviv hotel where he was staying, Mr. Hu said the city reminds him of Shanghai or Hong Kong. Through his eyes, he sees a city "full of life, even late at night, on the beach."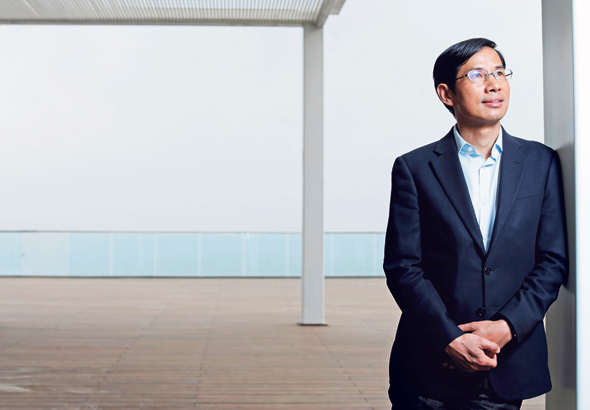 Fred Hu, founder and chairman of Primavera. Photo: Amit Sha'al

He came to Israel accompanying Alibaba's founder and chairman Jack Ma whom he considers a close friend. As part of his May visit to Israel, Mr. Ma received an honorary doctorate from Tel Aviv University. Mr. Hu was instrumental to the long-time efforts of the Tel Aviv University to bring Mr. Ma to Israel. "I came here to witness, to share the joy, to participate in the celebration," Mr. Hu said.

In 2017, Alibaba announced it is opening offices in Tel Aviv as part of a $15 billion global research and development push. Later that year, it acquired the assets of Israel-based QR codes startup Visualead Ltd.

Given Alibaba's long-term strategy, Mr. Hu said, he believes the company will continue to expand its local activity and investments in Israel.

In March, U.S. President Donald Trump cast the first stone in what is feared by many to become a full-blown trade war between the U.S. and China. In an attempt to cut a trade deficit of over $200 billion, Mr. Trump announced planned tariffs for taxing up to $150 billion worth of Chinese imports.

"Trade wars are good, and easy to win," Mr. Trump tweeted at the time.

In April, China reciprocated by announcing it is raising tariffs for U.S. products by 15%-25%.

The new customs policies have been temporarily halted as the two countries are attempting to resolve the issue at the negotiating table. However, on Wednesday, the Trump administration launched a national security investigation into car and truck imports, causing concern in the Chinese automotive industry.

Known as a "rainmaker" at Goldman Sachs, Mr. Hu led the company's Chinese offices for 14 years. He earned his Ph.D. in Economics from Harvard.

"No country has ever gained from a trade war," Mr. Hu said.

Born in 1963 in a village in the Yunnan province in China's southwest, Mr. Hu considers himself lucky to be born at a time of social and economic transformations in China, where 1.3 billion people are "escaping from poverty, becoming industrialized, urbanized, globalized." At 15, he enrolled at Beijing's Tsinghua University before moving on to Harvard. After finishing his Ph.D., he spent five years working at the International Monetary Fund, before returning to China and joining Goldman Sachs.

In 2010, Mr. Hu left Goldman Sachs to found Beijing-based investment firm Primavera Capital Group, which has over $3.4 billion in assets under management, according to information from Seattle-based market research company Pitchbook Data inc. Primavera has invested in Alibaba and several of its subsidiaries as well as in Yum China Holdings Inc., the Chinese arm of the Pizza Hut and KFC operator, online used-car marketplace Souche and Australian vitamins and supplements company Vitaco Health Group Ltd.

Primavera has a network of local partners in Israel, including investment banks, law firms, entrepreneurs and CEOs, Mr. Hu said. The hedge fund is looking to help Israel-based technology and agriculture companies to break into the global market and specifically into Asia, he added.

In 2017, Primavera attempted to acquire two Israel-based companies—drip-irrigation pioneer Netafim Ltd. and web and mobile monetization company IronSource Ltd. Both deals eventually fell through. Primavera had "serious interest" in both companies and a great deal of respect for their achievements, Mr. Hu said. He still thinks that if Primavera ends up investing in either of the companies, it can "take them to the next level," he said.

In February, Mexico-based pipes and chemicals company Mexichem SAB de CV acquired an 80% stake in Netafim, at a valuation of $1.895 billion.

Over the past decade, Chinese investors have become a major source of cash for many global businesses, gobbling up real estate projects, sports teams, and financial institutions worldwide. The trend slowed down due to regulatory restrictions coming from the Chinese government. The regulatory changes addressed bad decision making on behalf of some Chinese business people, Mr. Hu said. Inexperienced Chinese investors coming from traditional industries were over-confident in acquiring assets in sectors they were not familiar with, Mr. Hu said.

In his opinion, the Chinese government should not interfere. He views these risky investments as a tuition fee Chinese investors had to pay to gain the experience needed for future global investments.