Tech Workers Get More. In Israel, Much More
In Israel, tech employees earned nearly 2.5 times the average wage of all other employees in 2013, compared to an OECD average ratio of 1.64
In Israel, tech employees earned almost 2.5 times the average wage of non-tech employees, according to a new report which reviewed data from 2013. In terms of wage inequality, this ratio placed Israel higher than countries like the U.K., Germany and France, and much higher than the OECD average of a 1.64 ratio, according to the report published by Israel-based Taub Center for Social Policy Studies.
For daily updates, subscribe to our newsletter by clicking here.
Gross domestic product per capita in Israel is growing at a slower rate than the OECD average, highlighting the fact that a tenth of Israel's business sector accounts for about half of its exported production. Israel's GDP per capita has grown on average 1.3% a year in 2014-2017, compared to the OECD average of 1.9%, despite the unemployment rate being at an all time low.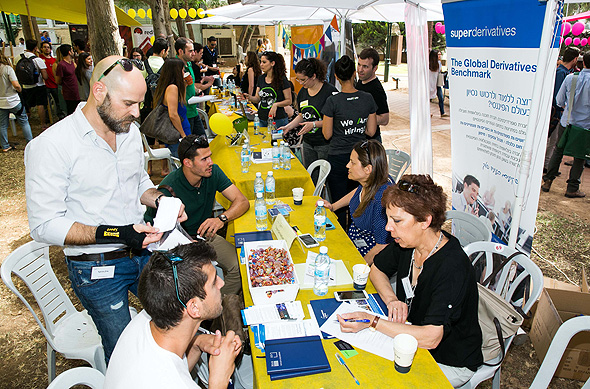 A tech job fair in Israel. Photo: Ofer Amram

According to the report, most of the new entrants to the local labor pool are from relatively low-skilled groups such as orthodox Jews and Arabs with Israeli citizenship, which take up low wage jobs, highlighting the difficulty of breaking into the highly skilled tech industry. Ultra-orthodox Jews account for 0.7% of Israel's tech workers, while Arabs, who make up around 20% of Israel's population, account for 1.4%, according to a study published by the Israeli Ministry of Finance in August 2017.

The report's authors note that "improvement in education among those populations could yield a significant source for future growth in Israel."

In the years 2013-2016, the number of students graduating Israeli high school with a relatively thorough training in mathematics has increased from 10.6% and 13.8%, though this is still below the levels seen prior to 2006, according to the report. The change has been especially strong among female Arab students, who make up 68% of higher math majors in the Arab population, compared to 45% female students among the Jewish population.

Female students also dominate computer sciences among the Arab high school students, accounting for 56% of students. Jewish female counterparts account for 28% among the Jewish students. Women make up 24.3% of all tech employees in Israel, according to August's ministry of finance report.