Tel Aviv Pride Parade Draws Record Crowd
Just last week, the Israeli parliament rejected a proposal to allow same-sex marriage in the country
A quarter of a million people marched in Tel Aviv's 20th annual pride parade on Friday, making it the largest pride parade in Israel's history, according to a statement released by the city of Tel Aviv, Friday.

For daily updates, subscribe to our newsletter by clicking here.

The parade marked the end of a two-week-long celebration of the LGBTQ community in Tel Aviv, which included a film festival, a special show by the Israeli Opera House dedicated to "great divas" and a series of LGBTQ events throughout the city.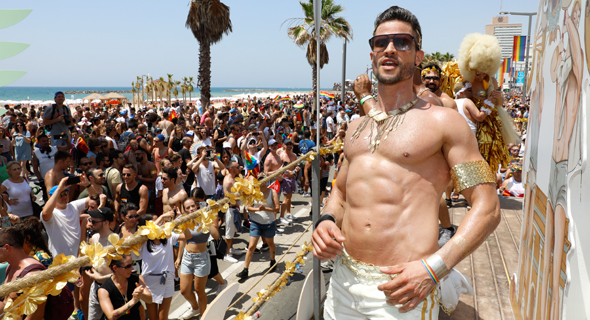 Tel Aviv's Pride Parade. Photo: Guy Yechiely

In July 2015, during the Jerusalem pride parade, 15-year-old Shira Banki was stabbed to death and six others injured by Yishai Schlissel, who was released from prison just one month prior, after serving a ten-year sentence for stabbing three people at a 2005 pride parade.

In May, the first pride parade in Kfar Saba, a suburban town northeast of Tel Aviv, was almost canceled after the police demanded protesters pay for the needed security measures. The police recanted its demand, following an appeal to Israel's supreme court.

Considered an international LGBTQ capital, Tel Aviv was voted "the most gay-friendly city in the world" by online travel magazine WOW Travel in 2015. "We will continue to support and celebrate our local LGBT culture and act as a welcoming destination for the international gay community," Ron Huldai, the mayor of Tel Aviv said in a statement.

This year's pride parade in Tel Aviv marked 30 years since Israel repealed its ban of consensual same-sex sexual acts. In 1995, before becoming mayor of Israel's iconic gay-friendly city and an "honorary member" of its LGBTQ community, Mr. Huldai, then principal of a local high school, stirred controversy when he was quoted as saying "two homosexuals kissing disgust me like roaches."

Mr. Huldai is not the only Israeli politician to make controversial statements concerning the LGBTQ community. In 2006, Bezalel Smotrich, an Israeli parliament member from the Israeli right-wing Jewish Home party organized an anti-LGBTQ march in which he paraded beasts and dogs in protest of the Jerusalem pride parade. In a public discussion held in 2015, Mr. Smotrich also said "I am a proud homophobe." In April, Israeli lawmakers Mordhay Yogev, also from the Jewish Home party, spoke against surrogacy for gay couples, saying "giving birth to children that will not have a mother is unnatural, immoral, inhumane and counters Judaism."