Israel's Online Fraud Industry Targeted in Rash of Foreign Enforcement Actions
The latest is motion requesting a court in Florida impose a $75 million judgement against an online marketer who allegedly helped Israeli companies defraud victims
The U.S. government is seeking a $75 million judgment in a federal court in Florida against an online marketer who allegedly helped Israeli companies defraud victims in the U.S. and elsewhere of their money using misleading web schemes.

For daily updates, subscribe to our newsletter by clicking here.

In hundreds of detailed pages filed with the court on July 12, the U.S. Commodities and Futures Trading Commission alleges that Michael Shah and his company Zilmil Inc. knowingly promoted online scams directing unsuspecting individuals to numerous websites run out of Israel.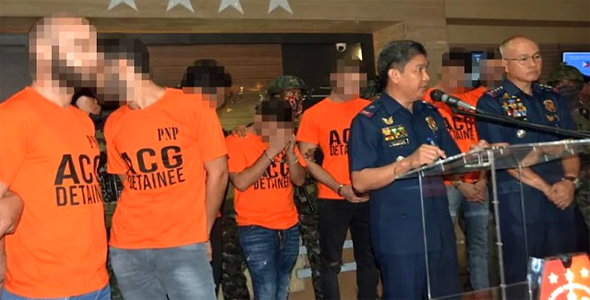 The arrests in the Philippines. Photo: Sun Star Manila

The websites offered visitors fraudulent investment opportunities involving financial instruments known as binary options and Shah allegedly collected a commission of up to $450 each time a user made a deposit into an online account.

The CFTC asked the federal court for summary judgment against Shah, arguing that the evidence against him is so compelling that a jury trial would be unnecessary.

Shah's company collected $18.7 million from financial victims since 2012, according to the CFTC motion, which requests that he be ordered to pay that sum back as well as a penalty of $56 million.

The websites Shah is alleged to have promoted are LBinary, Global Trader 365, Vault Options, TraderXP, Trade Rush, Banc de Binary, Citrades, OptionMint, OptionRally, RBOptions, Bloombex Options, Redwood Options, BeeOptions, Amber Options, OptionsXO, and SpotFN. The CFTC notes that none of them have been registered to offer binary options contracts.

Israel banned the marketing of binary options last year in a move widely hailed as a crackdown on a fraudulent industry that duped thousands of people around the world into handing over large sums of money based on false premises. But because of loopholes in the binary options legislation and the lack of legal actions against fraudsters by Israeli authorities, the industry has managed to survive. Some outfits moved offshore and others fine-tuned their offerings so that they fall within what is permissible, according to several lawyers who represent companies in the industry.

The CFTC's investigation and court motion follows two other major enforcement actions that have taken place abroad in recent months, suggesting that pressure on Israeli purveyors of lucrative internet scams may be growing.

In March, U.S. prosecutors in a Maryland court charged Israeli binary options executive Lee Elbaz with several counts of fraud. Elbaz was arrested a few months prior subsequently placed under house arrest. She headed Yokum Communications Ltd. as the company allegedly tricked victims into speculating on fluctuations in certain market indices.

In June, eight Israeli citizens were arrested in the Philippines on suspicion that they had directed efforts to cheat financial victims in Australia and South Africa of hundreds of thousands of dollars after gaining access to their credit cards and bank accounts.