Apple Hops on LGBT Support Wagon in Israel
Crowds are currently marching in several Israeli cities, including Tel Aviv and Jerusalem, in protest of ongoing government discrimination against the LGBT community
Apple is the latest multinational to back the Israeli LGBT community in the widespread protests that broke out Wednesday, after the Israeli parliament approved a new surrogacy law that extends the right to use surrogate mothers to single mothers—but not to single fathers, in a move designed to bar the process from the country's gay population.

For daily updates, subscribe to our newsletter by clicking here.

"One of Israel's greatest gifts is the creativity, diversity, and talent of all its people," Apple said in a statement. "Unfortunately, recent legislation passed by the Knesset undermines those values. Apple will always maintain its values of fairness, dignity, and mutual respect, and we stand with all of our employees seeking equality under the law."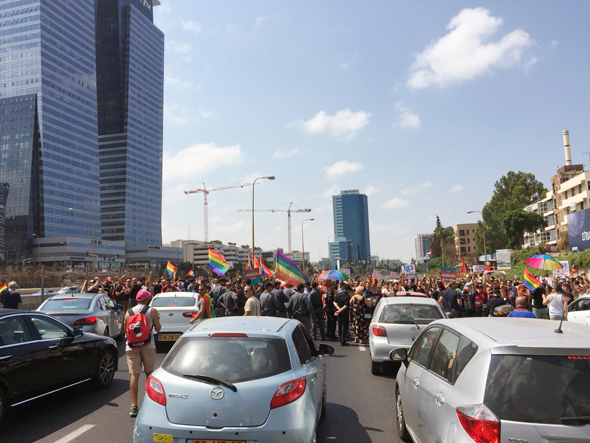 Protesters in Tel Aviv, Sunday morning. Photo: Adam Kaplan

With its statement, Apple has joined multinationals such as IBM, eBay Israel, and Teva Pharmaceutical Industries Ltd. Microsoft Israel and chipmaker Mellanox Technologies Ltd. upped the ante and declared a $16,500 (NIS 60,000) grant for employees turning to surrogacy outside of Israel, regardless of sex, marital status, or sexual orientation, with Facebook following with a $23,500 (NIS 85,700) grant and Israeli telecommunications company Cellcom announcing a $12,300 (NIS 45,000) grant. Tel Aviv-based software company Natural Intelligence has already made a similar announcement last year, promising $13,700 (NIS 50,000) grants.




Several municipalities like Tel Aviv and Ra'anana, a town in central Israel, announced their support of the protest, as did some advertising agencies, travel agencies, and companies like Proctor & Gamble and SodaStream. In total, over 200 companies have backed the protests in some capacity.

After scattered demonstrations that took place on Wednesday night, Israeli non-profit for LGBT rights LGBT Task Force organized a general strike on Sunday, which is also Tisha B'Av, an annual fast day in Judaism during which some people choose not to work. Protestors gathered in several cities, including Tel Aviv, Jerusalem, northern cities Haifa and Karmiel, and southern city Beer Sheva.

Protesters are calling for equal legal rights, and also criticizing Prime Minister Benjamin Netanyahu, who on Monday published a video expressing his support for extending surrogacy rights to single men —but at the last minute voted against the relevant clause.

A mass protest is set for 8 p.m. in front of Tel Aviv city hall, and several major roads in the area will be blocked in the evening as a result.