Opinion
Gaza's Economic Plight Could Prevent the Next War
Hamas is betting that Israel would opt to continue taking its incendiary balloon and kite attacks quietly rather than launch a full-scale war. If the violence escalates, Hamas could emerge as the biggest loser
On Friday, an Israeli soldier was shot and killed by a Palestinian sniper while on tour near the Gaza border, the first such incident since the end of the 2014 Gaza war. In the ensuing exchange of fire, four Hamas militants were fatally shot. The Israeli military launched an aerial attack later that day, hitting 25 targets in Gaza.

For daily updates, subscribe to our newsletter by clicking here.

On Saturday morning, Hamas announced it has agreed to a ceasefire with Israel, following mediation efforts by Egypt and the U.N.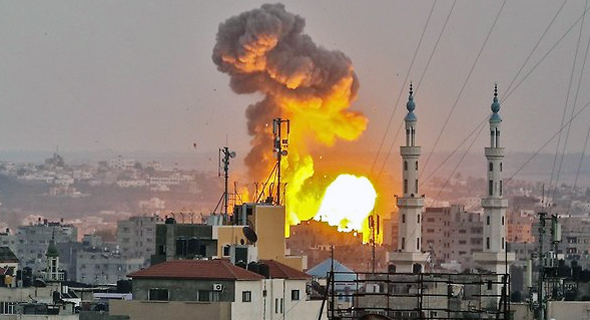 Israeli air strike on Gaza on Friday. Photo: AFP

Friday's hostilities and the urgent subsequent ceasefire have become routine over the past weeks for those living on both sides of the Gaza-Israel border: several hours of escalating violence, mutual threats, followed by a fragile ceasefire, until the next time. This mode of operation expresses the shared interests of both the Israeli government and Hamas, who are trying to avoid a full-scale confrontation like that of summer 2014. This sentiment aside, in the current state of things all anyone can do is set the countdown again for the next round of hostilities.

Israel has been troubled by developments near its northern border related to the continued instability in Syria and Lebanon, and these countries' relations with Iran. The absence of a diplomatic solution or a clear strategic outcome of another confrontation in Gaza reduces Israel's willingness to allow the situation in Gaza to deteriorate into a full-scale war.

War is the last thing Hamas leadership wants, too. While Hamas' political hold on Gaza is undeniable, the dire social and economic state in Gaza has awakened unprecedented criticism from within. In addition to its Israeli front, Hamas is fighting for dominance against Palestinian Authority President Mahmoud Abbas and his rival Palestinian faction Fatah. On the other side, Islamic organizations are also waiting for an opportunity to take a bite out of Hamas. Hamas is worried that war at this time could seriously undermine its rule in Gaza and lead to internal resistance and a real threat to its future.

Hamas is also responding to pressure from Egypt to subdue confrontation with Israel and avoid the launch of long-range missiles towards Israeli targets. Egypt has been attempting to ease a mounting crisis in Gaza by serving as a mediator between Israel, Hamas, and the Palestinian Authority, and is offering assistance to Gaza should Hamas rein in its attacks.

The rift between the West Bank's Fatah leadership and Hamas-controlled Gaza is not just political but is fueled by a fight over money and control over resources. Hamas and Fatah have agreed in the past on political buzzwords and opaque calls to action, but stagnating negotiations between the parties have taught the Palestinian Authority that Hamas does not seek an ally in Fatah. Instead, it wants to use the Palestinian authority as a cash cow. This is because Hamas wants to spend its own independent resources on building military and political strength while collecting funds for salaries and services for Gazans from the Palestinian authority.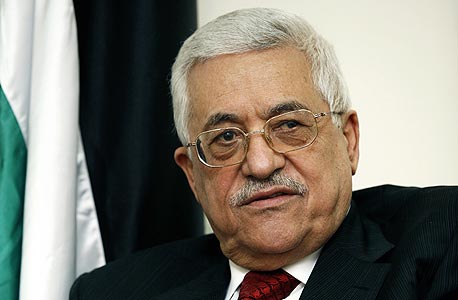 Mahmoud Abbas. Photo: Amit Shabi

The realization that these funds help maintain Hamas' grasp over Gaza has led Abbas and his advisors to make a strategic decision to stop financing salaries to 70,000 Gazans, including security personnel whom Hamas recruited for public sector positions since it took over Gaza in 2006. Dwindling international aid money coming through to the Palestinian Authority in the West Bank has also led it to shut down the flow of cash to Gaza.

On Thursday, the head of Hamas Ismail Haniyeh announced he would support a new Egyptian-led push for reconciliation with Fatah and a ceasefire with Israel.

The first clause of the Egypt-brokered agreement and the most crucial to Hamas states that Abbas will announce the lifting of the sanctions Fatah placed on Gaza last April. The sanctions, which were placed following an assassination attempt against Abbas during a visit to Gaza, have contributed greatly to the economic and humanitarian deterioration. The cessation of the flow of funds from the West Bank to the Gaza Strip increased Hamas' distress and contributed to the growing escalation against Israel in the last three months and to the organization's efforts to break the siege placed on Gaza by Israel and Egypt.

Other clauses to the brokered agreement touch on a long-lasting ceasefire with Israel and the establishment of rehabilitation projects in the Gaza Strip, with international funding estimated at $800 million.

The economic pressure inside Gaza is bubbling up. Even prior to Friday's escalation there were reports coming out of Gaza that only 30% of factories there continue to operate. Palestinian business owners attributed the decline in manufacturing activity to the lack of raw materials, which are typically sourced from Israel. Since Hamas first took over the Gaza strip in 2006 hundreds of factories have closed. Now Gazan business owners are saying the surviving factories are in grave danger.

More than 53% of Palestinians in Gaza lived below the poverty line in 2017, according to data from the Palestinian Central Bureau of Statistics. According to World Bank data, unemployment in Gaza reached 44% in 2017. Unemployment of those aged between 15 and 29 reached 60%.

In this economic state, it should not come as a surprise that young Gazans are frustrated and pessimistic about the future. The pressure from within is threatening Hamas leadership, and it threatens Israel as well.

For now, Hamas is willing to pay the price for its activities, which at the moment primarily includes the destruction of infrastructure. Hamas has been insinuating it intends to use the termination of the protests and the kite attacks as bargaining chips in a comprehensive reconciliation agreement led by Egypt. In doing so, Hamas is betting that Israel would not launch a full-scale war at this time.

Doron Peskin is an analyst of Middle Eastern economies and the head of Concord MENA, a company specializing in public sentiment analysis of Arab countries.