Corporate Culture Must Be Susceptible to Change, Says Microsoft Executive
Speaking on Tuesday at a conference on human resources, Microsoft Israel General Manager Shelly Landsmann said employees should be rewarded for leadership and for their overall impact on the company
An executive's most important job is to shape a corporate culture that is susceptible to change, Shelly Landsmann, general manager of Microsoft Israel, said at Calcalist's human resources conference held Tuesday in Tel Aviv in collaboration with Nespresso.

For daily updates, subscribe to our newsletter by clicking here.

A company has to encourage employees to embrace and initiate new approaches, and should reward workers for leadership and for their overall impact on the company, she added. "If employees do not feel significant, they will not remain with the company," Landsmann said.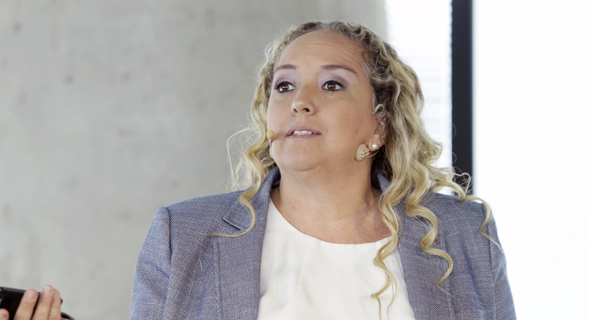 Shelly Landsmann, general manager of Microsoft Israel. Photo: Amit Sha'al
Job applicants are the ones conducting the interviews these days, said Gal Rimon, founder and CEO of gamification human resource company Game Effective, incorporated as Biz-Effective Ltd., who spoke at the conference. Employees are less interested in hard work and more oriented towards growth and engagement, he added.
The education system must adjust to technological advancements, otherwise, its graduates will have a very hard time finding work in 10 years, said Avi Golan, the general manager of the Israeli office of Santa Monica, California-headquartered ZipRecruiter Inc. Governments and private sector companies should periodically create employee training programs to help veteran workers adjust to the ever-changing working environment, Golan said.