Analysis
Takeaway.com Deal Highlights Israel's Top Job Perk: Prepaid Lunch Cards
On Saturday, Takeaway.com announced a 135 million euros deal to acquire Tel Aviv-based lunch card provider 10bis
Through its 135 million euros ($157 million) acquisition of Tel Aviv-based online food marketplace 10bis.co.il Ltd., Amsterdam-listed food delivery company Takeaway.com NV is looking to add a business-to-business (B2B) model to its offering, Joerg Gerbig, chief operating officer of Takeaway.com said in a statement Saturday.
For daily updates, subscribe to our newsletter by clicking here.
In addition to providing on-demand deliveries from restaurants through its website and app, 10bis' primary service is a prepaid lunch card, which can be used in most restaurants in Israel. The card is considered one of the common perks companies use to lure workers to their ranks in the talent crunch-struck Israeli tech industry. Employers can choose whether workers may only use the card for lunch during working hours or have the ability to use excess credit for extracurricular dining, in their free time. Thousands of companies in Israel offer 10bis cards as part of their employee benefits, including eBay, Mobileye, and Amdocs.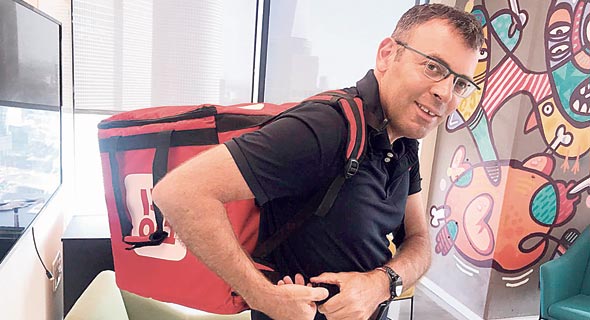 10bis founder Tamir Carmel. Photo: PR
Israel's lunch card industry is largely controlled by 10bis and Cibus Business Meals Ltd., which was acquired by Paris-listed food services company Sodexo SA for NIS 105 million (approximately $27.19 million) in 2012.
According to a 2012 report by Israel's Antitrust Authority, the two companies controlled 90% of the market at the time. Last year, the authority launched an investigation to examine whether 10bis and Cibus can be considered as a duopoly. The authority later closed the case stating its investigation did not raise suspicion of legal wrongdoing.
Lunch card operators have often been criticized for the high commissions they charge restaurants for each deal. In a Facebook post published in January, Yatai, a Japanese restaurant located in central Tel Aviv, claimed the commission amounts to 7% of the deal when diners eat within the restaurant and 11.7% for takeaway and deliveries. Yatai also claimed companies like 10bis force restaurants to absorb additional charges such as special discounts given to big corporate clients, which diners are unaware of. In its post, Yatai called upon its customers to avoid paying with lunch cards and instead receive a 10% discount directly from the restaurant.
In May, a 10bis user filed a lawsuit against the company's practice of taking a cut off tips given to waiters and delivery people through their service.
"10bis and Cibus have taken over the restaurant industry and are using the helplessness of restaurants and small businesses," Shay Berman, CEO of Israel's Restaurants, Bars, and Cafes Union said in a phone interview with Calcalist on Sunday.
Founded in 2000, 10bis is one of the largest food delivery companies in Israel. In 2017, the company's delivery service processed 15.2 million orders worth over 140 million euros, according to Takeaway.com's statement.
Takeaway.com now owns a 100% stake in 10bis. Boston-based private equity firm TA Associates Management LP formerly owned an 80% stake in 10bis and the remaining 20% were held by founder Tamir Carmel.