Amdocs CEO Eli Gelman to Step Down Effective October 2018
On Tuesday, the Nasdaq-listed company announced record revenues of $1 billion for the third quarter but lowered 2018 forecasts
Eli Gelman, the CEO and president of Nasdaq-listed billing company Amdocs Management Ltd., announced on Tuesday he will retire from both positions effective October 1, 2018. He will be replaced by Shuky Sheffer, Amdocs' senior vice president and president of the global business group. Gelman, who assumed both positions in 2010, will stay on as a board member.

For daily updates, subscribe to our newsletter by clicking here.

"Eli began his tenure as CEO in the aftermath of the global financial crisis and has expertly steered the company through an unprecedented period of rapid industry change," said in a statement Amdocs chairman Robert Minicucci.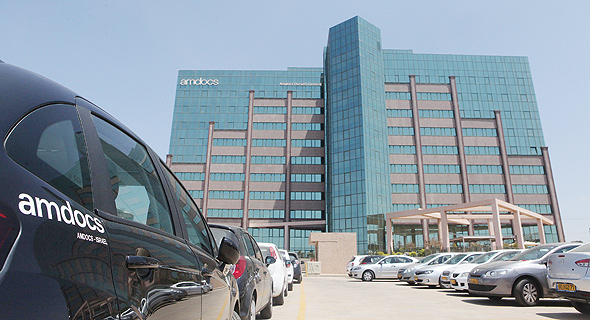 Amdocs' Israeli offices. Photo: Orel Cohen

Also on Tuesday, Amdocs published its third-quarter reports for 2018, announcing record revenues of $1 billion, up 3.7% year-over-year. The revenues were in the mid of the company's guidance range.

GAAP diluted earnings per share were $0.64, below the $0.71-$0.81 guidance range. Non-GAAP diluted EPS were $1.03, at the midpoint of the range. Amdocs' GAAP operating income was $106 million.

Amdocs forecasts revenues of $980-$1,020 million for the fourth quarter of 2018, and a diluted GAAP EPS of approximately $0.71-$0.79. For the entire fiscal year of 2018, Amdocs lowered the guidance for its revenue growth from of 2.3%-4.3% year-over-year to 2.2%-3.2% year-over-year.

Amdocs will pay a quarterly dividend of $0.25 per share on October 19.

Amdocs is currently trending slightly down in after-hours trading.