List
Israeli Technologies Taking On the Challenges of Old Age
Venture capitalist Eze Vidra highlights 11 Israeli tech companies that will help grandma do more than cross the road
Scientists and researchers are working hard on extending our lifespan, but, statically, the future is not so bright for many of us. From the age of 80, 20% of people suffer from a form of dementia, 25% suffer from visual impairment, and 80% from hearing loss.
For daily updates, subscribe to our newsletter by clicking here.
According to a 2015 report by Washington-based nonprofit Population Research Bureau, the number of U.S. residents over 65 will double by 2060, so addressing challenges brought on by old age is a huge and growing market.Technology can help the elderly retain their independence, monitor their health and live a longer, fuller life.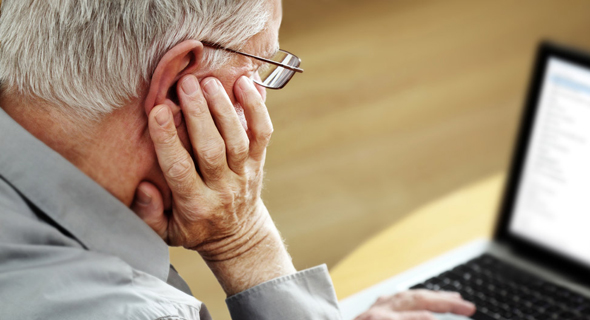 Elderly person using a computer (illustration). Photo: Shutterstock
Bellow are some Israeli startups that use tech innovation to improve the lives of seniors and cater to their unique needs.
Intuition Robotics Ltd.
Founded in 2016 and based in Ramat Gan, a town in the outskirts of Tel Aviv, Intuition Robotics developed ElliQ, a social robot that helps older adults stay active and engaged. ElliQ learns the user's tastes, preferences, and habits to make proactive suggestions for consuming digital content (such as music or videos) or engaging in physical activities. The company has raised over $27 million to date, according to Pitchbook data.
UPnRIDE Robotics Ltd.
UPnRIDE develops a hoverboard-like device that allows users who are unable or who have difficulty to stand, safely and independently travel in an upright position. Founded in 2013 and based in Yokneam Illit, a town in Israel's north, UPnRIDE has raised $4.89 million according to data from Start-Up Nation Central.
Temi
Spun off of Israeli military robotics company Robo-Team Ltd. in 2016, Temi, incorporated as Roboteam Home USA Inc., develops a $1,500 personal robotic assistant the follows its owners from room to room and is capable of carrying objects, placing video and voice calls and controlling smart-home devices. The company has offices in New York, San Francisco, Tel Aviv, Singapore and Shenzhen, China, and has raised $60 million to date.
Uniper Care Technologies Ltd.
Based in Tel Aviv with additional offices in Santa Monica and Australia, Uniper develops a device that plugs into a regular television set and allows users to make video calls and use social networks and instant messaging apps without having to struggle with the small screens of mobile phones. Users can also attend online education courses, sports classes, and social activities through the screen. The system also allows caregivers to communicate with patients and family members, to arrange their schedules and to set up reminders. Uniper was founded in 2015 and has raised $2.92 million to date.
Kytera Technologies Ltd.
Founded in 2012 and based in Herzliya, a town in the Tel Aviv area, Kytera develops a remote monitoring system, composed of a wristband and an array of in-home sensors, that automatically detects and reports emergency and distress situations for seniors living alone. Israel-based Terra Venture Partners is an investor in the company.
OrCam Technologies Ltd.
Founded in 2010 by Ziv Aviram and Amnon Shashua who also founded automotive chip company Mobileye, later acquired by Intel, OrCam develops MyEye, a wearable visual aid device capable of instantly reading written information out loud to assist visually impaired individuals. Valued at over $1 billion, the Jerusalem-based company has raised over $130 million to date.
Vayyar Imaging Ltd.
Originally developed for breast cancer screening, Vayyar's 3D imaging sensors can monitor an elderly person's daily activity patterns and vital signs to detect accidents or other emergencies in the home. Based in Yehud, a town in central Israel, and founded in 2011, Vayyar has raised $79 million to date.
Hip Hope Technologies Ltd.
Founded in 2011 and based in Hod Hasharon, a town in the Tel Aviv area, Hip Hope develops a wearable device designed to prevent hip fractures. The FDA-approved device detects falls and uses airbags to soften the impact. The device can also alert caregivers of accidents. The company has raised $1.7 million in funding.
MediSafe Project Ltd.
Based in Israel's northern port city of Haifa, MediSafe develops a mobile app for keeping up with multiple medication doses according to each user's personal schedule. Founded in 2012 with additional offices in Boston, MediSafe has raised $21.5 million to date.
EarlySense Ltd.
Founded in 2004, EarlySense develops a patient monitoring system capable of registering heart rate, respiratory rate, and movement. The system allows clinical teams to detect and address early signs of deterioration, including falls and pressure ulcers. Based in Ramat Gan and Massachusetts, EarlySense has raised $113 million in funding.
ContinUse Biometrics Ltd.
Tel Aviv-based ContinUse Biometrics uses nanotechnology-based sensors to detect molecular vibration. The system requires no physical contact with the user and can simultaneously monitor over 20 biomedical parameters remotely, including vital signs, auscultation of heart and lung sounds, muscle activity, and even biochemical screens. Founded in 2015, the company has raised $22 million to date.
Eze Vidra is a managing partner at Remagine Ventures, a venture capital fund investing in entrepreneurs working at the intersection of tech, media, data, and commerce. Vidra is also the author of tech-oriented blog VC Cafe .