Naver Backs Israeli Sports Tech Company's Push into Asia
Israel-based PlaySight Interactive develops smart courts technology that enables players and coaches to use multi-angle video and analytics to improve on-court performance
Naver Corporation, the company behind Korean search engine Naver, is investing an unspecified sum in Israeli sports tech company PlaySight Interactive Ltd., PlaySight announced Wednesday.

For daily updates, subscribe to our newsletter by clicking here.

PlaySight develops smart-court technology that enables players and coaches to use multi-angle video and analytics to improve on-court performance. The technology uses multiple HD cameras installed around the court that automatically record, analyze and stream player activity, also making use of sensors worn by the players. PlaySight uses the data to create automatic replays and data-based analysis and evaluation tools. Its platform allows users to review, edit and share both the recorded video and the data.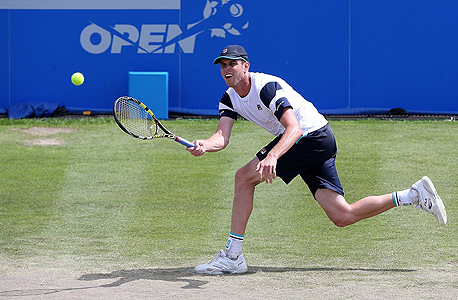 Tennis (illustration). Photo: Getty Images

PlaySight stated it intends to use the funds to expand in the Asia-Pacific region, and specifically in Japan and South Korea.

The company previously raised $36 million in equity funding from investors including SoftBank Ventures, the investment arm of SoftBank Corporation, and CE Ventures, an Israel-based venture fund backed by Chinese peer-to-peer lending company CreditEase.

"We have been looking for the right content, data and media partner as we continue to add more athletes, teams, and facilities and are excited that Naver believes in our expanding vision," said PlaySight CEO Chen Shachar in a statement.