People Are Calling This 240-Meter Solar Tower "The Eye of Sauron"
The tower is part of a 121-megawatt solar thermal power plant located in Israel's Negev Desert
People in Israel are taking to social media to discuss the unnerving sight of a solar power station that was recently connected to the grid, calling it "The Eye of Sauron" and the "Tower of Mordor."

For daily updates, subscribe to our newsletter by clicking here.

Solar towers are often described as resembling the literary tower due to their brightly glowing tip, the effect of light-tracking contraptions compiled of thousands of small mirrors. The mirrors concentrate the sun's heat onto a boiler mounted on the tower. The latter produces high-temperature steam used to generate electricity.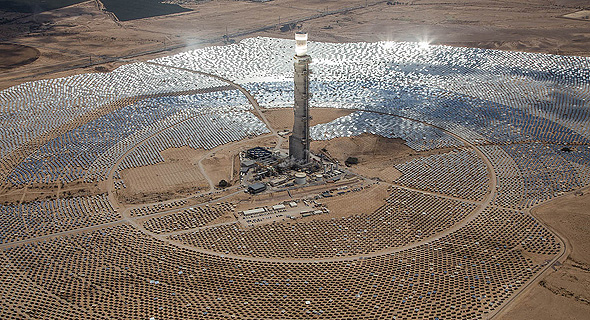 Megalim solar power plant. Photo: Megalim Solar Power, Albatross Aerial Photography
The 240-meter tower is part of a 121-megawatt solar thermal power plant located in Israel's Negev Desert. Scheduled to be completed in early 2019, the 3-square-kilometer power station was constructed at the cost of $774 million (NIS 2.8 billion). The station was built and is operated by Megalim Solar Power Ltd.– a special purpose company formed by solar thermal technology provider BrightSource Energy, Inc. and Alstom SA following a government tender.
In a Facebook post published Thursday, Haim Ravia, a senior partner and chair of the cyber, internet, and copyright group at Tel Aviv-based law office of Pearl Cohen Zedek Latzer Baratz, shared photos of the tower. The caption: "The Eye of Sauron is in Israel." Ravia wrote the solar tower is visible from a vast area, calling it "scary" looking.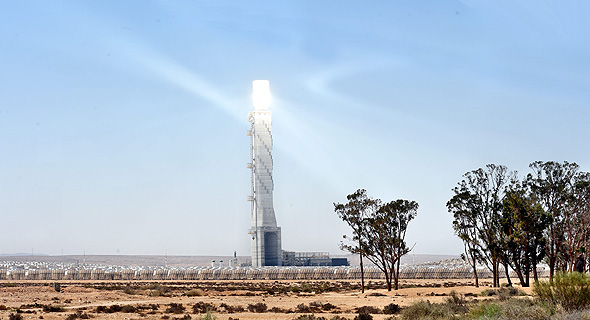 Megalim solar power plant. Photo: Haim Hornstein

People commenting on Ravia's post lauded the comparison, with several commentators calling the solar tower "spooky" and "alien."

On August 24, Oren Shraiber, founder of marketing video production company Shoof Video, shared a photo of the tower to his Facebook page with the caption "Sauron returned to Middle-Earth." In his post, Shraiber said he drove by the tower, saying its light can be seen to a great distance.

An article published on Israeli news site Ynet News Thursday cited multiple complaints about the solar tower and its blinding effect on residents and people driving along Israel's highway 40, the main intercity road connecting the central and southern regions of the country.

The energy plant started operating in May, but was synced with the electric grid late in July, Megalim Solar Power CEO Eran Gartner said in a phone interview with Calcalist Thursday. Commercial operation is expected to start in early 2019, he said.

"I watched the movies," he said when asked about the allusions made to the Lord of the Rings saga.

"I understand why people need to comment on something new. We see ourselves as a source of renewable energy, not as the source of evil," he said.