Interview
Biographer Sees Chinese Government Involvement in Jack Ma's Alibaba Retirement Plan
Ma's decision can only be understood in connection with the centralized approach dictated by China's President Xi Jinping, said Ma's biographer Duncan Clark
Earlier this month, legendary tech magnate Jack Ma took the world by surprise when he told the New York Times he plans to retire from Alibaba, the $420 billion e-commerce company he co-founded 19 years ago, in a matter of days.

For daily updates, subscribe to our newsletter by clicking here.

A few days later, in a letter addressed to Alibaba's customers and shareholders, Ma charted a longer, more 'sensible' course for his retirement. Ma will not step down as chairman of Alibaba until the end of 2019, when he will be succeeded by CEO Daniel Zhang, to ensure a smooth transition.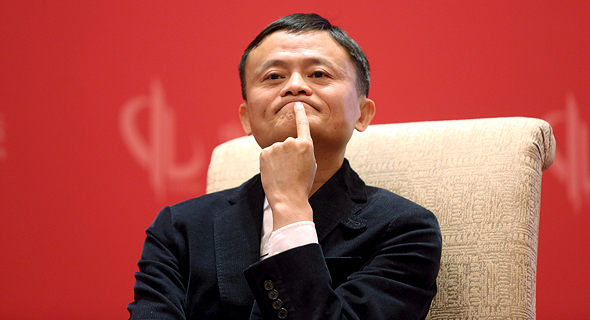 Jack Ma. Photo: Reuters

In an interview with Calcalist last week, Duncan Clark, who wrote the 2016 Ma biography, "Alibaba: the House that Jack Ma Built," said that the uneven message was likely the result of an urgent negotiation over the terms of Ma's retirement. Clark also said it is likely that the Chinese Government intervened as well. "If there is one thing we know for certain is that the Chinese government does not like to be surprised," he said.

At the age of 54, Ma is one of China's wealthiest people, with a personal net worth estimated at $40 billion. It does not mean that he is free to plan his own retirement, however. Every step Ma takes carries consequences for Alibaba, its shareholders, and its 86,000 employees. What's more, Ma is no longer a private man, but a national icon, a symbol of the new, entrepreneurial Chinese economy and a de facto ambassador of China. It is not an overstatement to say that every announcement Ma makes has national implications.

Ma retired as CEO in 2013, but while he no longer oversees day-to-day operations at Alibaba, as chairman, he still holds many responsibilities. Take, for example, the extraordinary number of official visits Alibaba hosts annually—40,000, according to Ma, and many of which require his personal attention. With so much responsibility, it is no wonder that Ma has been talking about retirement for years.

In his 2016 book, Clark writes that Ma has been saying he plans to retire by the time he was 40, and return to his previous profession—teaching.

"Jack Ma is not an engineer, and prior to Alibaba, he was never a manager in a big company, so he always delegated, even from early on," Clark said. "The management was not much of a priority for him any way I think."

Clark, a senior expert on Chinese policy, technology, and business, is the founder and chairman of BDA China, an advisory firm serving investors in China and other Asian markets. He has lived in China for 24 years and has worked with Ma since 1999, the year he co-founded Alibaba out of the living room of the apartment Ma shared with his wife.

"Running a big and influential company like Alibaba in China—increasingly there's a lot of internal and external pressure," Clark said. While Alibaba is still an extremely dominant company, profit margins in e-commerce are decreasing with growing competition, while regulation is becoming more burdensome. "Certainly the Internet companies (In China) are being more closely regulated," Clark said. "There is also a lot more pressures on Alipay because the banks and the regulators trying to squeeze back, push back against internet players. So It's a lot of headaches, a lot of requests for your time."

In his September 10 letter, Ma did not mention the Chinese government as having any impact on his decision to retire, but Clark believes Ma's decision can only be understood in connection with the centralized approach dictated by China's President Xi Jinping.

"The frequency of government intervention has become more pronounced," Clark said. "In some ways, the government sees the benefit in letting entrepreneurs run these companies but in a political environment when President Xi is chairman of everything; some people think 'why not this too?' These are speculations, but this is the music now, this is what people feel," Clark said.

According to Clark, Ma has had his share of run-ins with the government. "He had public disagreements (with the government) which made him even more interesting for the public," Clark said, adding that ultimately, Ma has been "very good in reading the political winds."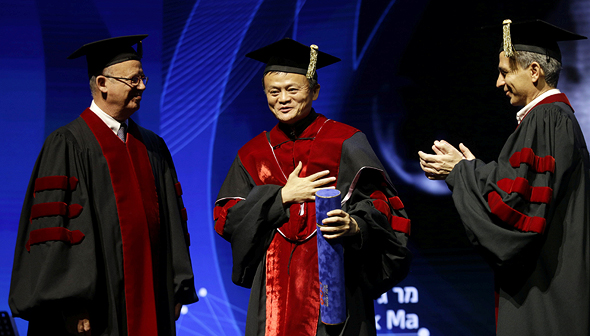 Jack Ma receiving an honorary doctorate from Tel Aviv University. Photo: Amit Sha'al

In a 2014 panel discussion organized by the Wall Street Journal, Ma described his approach to operating a company in the shadow of the Chinese government. "Be in love with them, but don't marry them," he said.

Ma has been vocal in the past about the pressure of running a $410 billion company, saying on multiple occasions that if he had a chance to do it over, he would not have launched Alibaba.

In 2016, during a Q&A session at the St. Petersburg International Economic Forum, Jack Ma said "my biggest mistake was I made Alibaba," adding that he never intended for the business to grow so big and accumulate so much responsibility.

In a 2017 talk with American TV host Charlie Rose, Ma said, "the thing is, I don't want to die in my office. I want to die on the beach."

According to Clark, while Ma enjoys his celebrity status and knows how to "work" an audience, the level of attention he gets could be stressful.

Still, Clark does not believe that Ma could ever really break free with Alibaba. In his own official statement, Ma said: "Alibaba was never about Jack Ma, but Jack Ma will forever belong to Alibaba."