Teva Nearing Sale of Israeli Manufacturing Plant
The pharmaceutical company is negotiating the sale of a manufacturing facility located in the town Kiryat Shmona in the north of Israel
Teva Pharmaceutical Industries Ltd. is negotiating the sale of one of its manufacturing facilities, located in the town Kiryat Shmona in the north of Israel, according to one person. The forerunner in talks to acquire the plant is German pharmaceutical device company B. Braun Melsungen AG, the person who spoke with Calcalist on condition of anonymity said. Other potential buyers are still in the running, according to this person. The plant is valued at up to $100 million, the person added.

For daily updates, subscribe to our newsletter by clicking here.

A spokeswoman for Teva said the company does not comment on rumors.

B. Braun has been approached for comment but has yet to respond.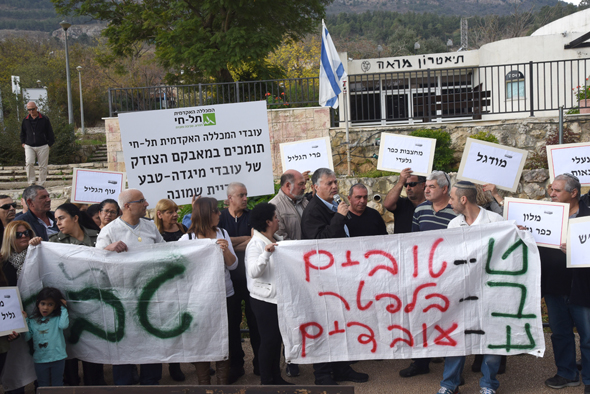 Employees protesting earlier this year in front of Teva's Kiryat Shmona plant. Photo: Aviyahu Shapira

The Kiryat Shmona facility, which employs some 200 people, is one of Teva's more profitable facilities, with annual revenues of several tens of millions of dollars. The plant manufactures plastic products for the pharmaceutical industry, its main moneymaker being the Tevadaptor, a closed system transfer device that protects workers from exposure to dangerous substances. B. Braun is Tevadaptor's main distributor. Teva has announced its intention to sell or close over 20 of its manufacturing assets following its debt-reducing reorganization plan, announced December 2017.

As part of the plan, Teva also announced its intention to let go 25% of its employees by 2019. The announcement was followed with employee protests and strikes in Israel, Teva's home-base, and rebukes by local politicians. The employees of the Kiryat Shmona facility have been in conflict with the company's management for the past few months, and have even shut down the plant's operations last month, demanding to secure their employment rights as part of the sale process.

The head of the plant's union committee, Meir Ben Elul, told Calcalist that an acquisition deal is "very close to being signed, during the strike. The employees that the eventual deal will secure the continued operation of the facility.

The Tevadaptor has been facing growing generic opposition in recent years, with B. Braun the main beneficiary of its distribution profit. The plant's other products have also been facing harsh competition from products manufactured in India and China, where the manufacturing costs are significantly lower.

In April, Teva announced its decision to close its facility in the Israeli port town Ashdod, which employed 175 people, after failing to find a buyer. The facility manufactured products for medical processes such as dialysis and Intravenous therapy, pain medication like Paracetamol, and anti-cancer medication. At the time the company stated that the manufacturing of the intravenous therapy bags, which accounted for half of the plant's output, was unprofitable.