Opinion
How Netanyahu Surprised Israeli Press by Taking Questions from Israeli Press
In recent years, media-savvy Netanyahu has shown a distinct liking to engaging with his potential voters directly on social media, without having to shoulder pestering questions from the local press
On Tuesday, Israeli Prime Minister Benjamin Netanyahu and Minister of Economy Moshe Kahlon convened a press conference in Netanyahu's offices to announce the next governor of the Bank of Israel, economist Amir Yaron. The event gained a surprising twist when Netanyahu opened the floor to questions from journalists.

For daily updates, subscribe to our newsletter by clicking here.

In Israel, Netanyahu is well known for his refusal to directly engage with Israeli media. Unlike other country leaders, who hold routine press briefings or conferences, Israelis mostly see their prime minister speaking with foreign journalists. Netanyahu prefers to address his potential voters through videos and posts published on his popular Facebook page, where he is not required to address inconvenient questions from the press.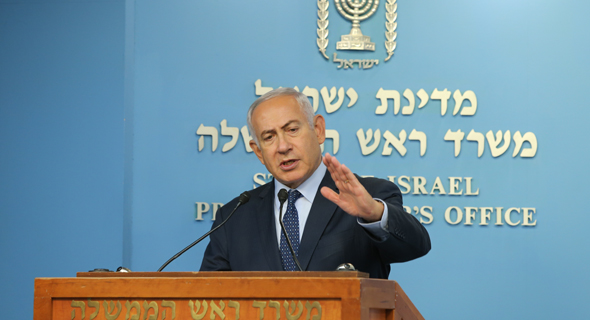 Prime Minister Benjamin Netanyahu. Photo: Amit Shabi

On Tuesday, Netanyahu surprised listeners by inviting journalists to question him on "any subject" they desired, dismissing the two-question rule his public relations personnel imposed earlier. "Call your newsrooms, they'll provide you with embarrassing questions," he joked with the surprised journalists in the room,

The last time Netanyahu gave such (positive) attention to Israeli media was before the last general elections in the country.

Netanyahu stated several times that he has no intention of moving up the planned date of the elections. But he might be realizing that the continuing parliamentary conflict regarding the mandatory army service of ultra-Orthodox men, which is dividing some of the coalition's uneasy partners, is putting an earlier expiration date on the current government.

The myriad of police investigations Netanyahu is currently embroiled in—involving suspicions of bribery, fraud, and breach of trust—may also contribute to his decision. When the attorney general of Israel needs to make a decision about whether or not to press charges, there will be a major difference between being a prime minister at the end of his tenure, and being a newly elected, widely supported one.

Netanyahu was in a demonstratively good mood at the press conference, providing eloquent answers when shouldering questions on subjects within his comfort zone—economic policy and the new governor—but also on more difficult questions, like Israel's current border conflicts, and the ongoing police investigations. "I don't believe I will be indicted," he said.