WeWork May Launch Its First Israeli Co-Living Space in Jerusalem
Update: According to people familiar with the matter, the New York-headquartered space sharing company is in negotiations to lease living units currently under construction above its Jerusalem co-working space. On Tuesday , A WeWork spokesperson denied the claim
New York-headquartered space sharing company WeWork's first Israel co-living space may be in Jerusalem.
For daily updates, subscribe to our newsletter by clicking here.
The city of Jerusalem has approved a plan to build six additional floors on top of a four-story commercial building in the city's downtown area, one person from the Jerusalem city planning division who spoke on condition of anonymity told Calcalist. WeWork currently leases two floors in the building, spanning around 2,000 square meters, and negotiations are underway for the company to lease the additional space allocated for offices and living purposes, one person familiar with the deal who spoke on condition of anonymity said.
Update: After being approached by Calcalist for comment Monday, a WeWork spokesperson on Tuesday denied the report saying WeWork "has no plans to bring WeLive to Hamashbir building in Jerusalem."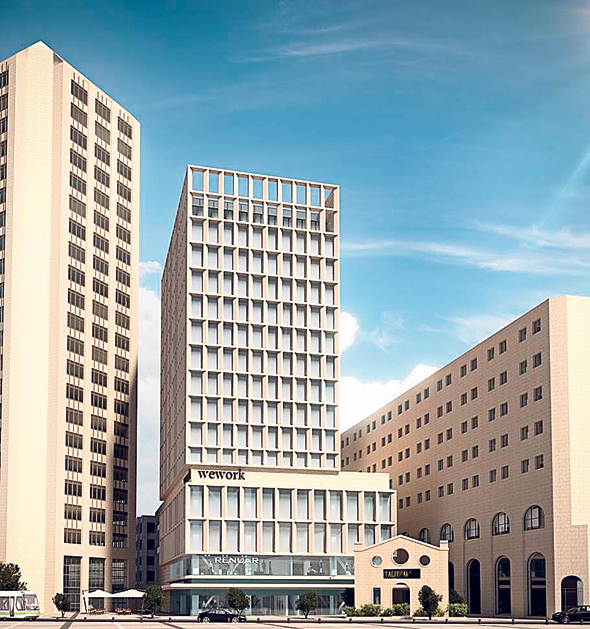 A simulation of the finished building project in Jerusalem. Photo: Kolker Kolker Epstein Architects

WeWork launched its co-living space venture WeLive in 2016. With locations in New York and the Washington, D.C. metropolitan area, WeLive residents occupy small private living quarters and have access to larger common areas that include kitchen and laundry facilities, as well as recreational amenities.

In January, Tel Aviv's chief planner Orly Erel said in an interview with Calcalist that WeWork is exploring the possibility of opening a co-living location in a 17-story building in the vicinity of the city's business district.

First constructed as a department store in the early 1970's, the intended building in Jerusalem recently underwent renovations after a fire damaged the property in 2015. The approved plan of additional floors to be built includes 2,200 square meters of office space, 4,300 square meters of commercial space and 98 residential units, 80 of them are studio apartments of up to 45 square meters each, for which the city does not require the allocation of individual parking spaces.

The plan is in accordance with the city's policy of bringing quality employment options to the city and encouraging the use of public transportation, Jerusalem district planner Shira Talmi Babay said in a phone interview with Calcalist Monday.

Jerusalem is currently undergoing vast changes to make it more attractive to businesses. In March, construction started on a new entrance to the city, which is scheduled for completion within five years. With a planned budget of approximately $435 million (about NIS 1.5 billion) the project includes 24 towers, thousands of housing units, 2,000 hotel rooms, commerce facilities, 1,400 underground parking spaces, about 1,400 square kilometers of office space, and a transportation hub that facilitates an express train, two light rail lines, and separate lanes for private and public vehicles.

In late September, 17 years after it was first announced, a new Jerusalem express train line was launched. Plagued by a series of malfunctions and interruptions ever since, the new line covers half of its originally planned route from Jerusalem to Tel Aviv, getting only as far as Ben Gurion International Airport, 19 kilometers southeast of Tel Aviv.

WeWork was founded in 2010 by Israeli-born entrepreneur Adam Neumann and Miguel Mckelvey. It has over 470 locations across 94 cities around the world, including several shared office spaces in Tel Aviv and other Israeli cities, according to company statements. WeWork opened its Jerusalem location earlier this year, making it its ninth co-working space in the country.