List
Microsoft Overtakes Intel in Annual Ranking of Best Tech Companies to Work for in Israel
Analytics company Dun & Bradstreet revealed its list of the best 50 companies to work for in Israel on Tuesday
On Tuesday, business data, analytics, and insights company Dun & Bradstreet Corporation revealed its annual list of best 50 workplaces in Israeli tech. Google and Facebook nabbed first and second places on the list, same as last year.

For daily updates, subscribe to our newsletter by clicking here.

The list was presented at an event held in at shared office venture Labs in Tel Aviv in partnership with Calcalist.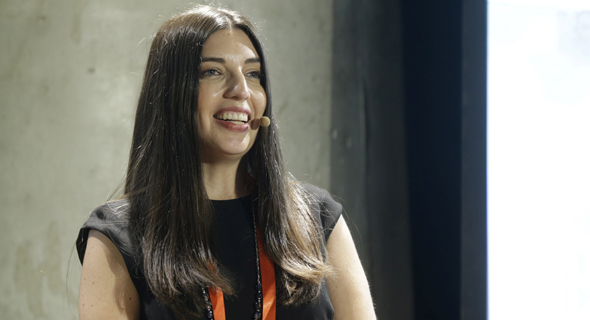 Efrat Segev, vice president of business development at Dun & Bradstreet. Photo: Amit Sha'al

Microsoft came in third, displacing Intel, which dropped to the 7th place. Last year, Microsoft came in 13th. Apple Israel and Wix.com came in fourth and fifth, the same as last year.

In January, Microsoft appointed Assaf Rappaport to head its Israeli research and development center. Rappaport, 35, joined Microsoft in 2015 after the company bought Adallom Inc., the cloud security startup he co-founded and led. The center was relocated to a leased WeWork space in Tel Aviv earlier this year.

Microsoft's jump in the ranking can be attributed to the global company's change in attitude from "we know everything" to "we'll learn everything," Rappaport said Tuesday. In Israel, the company is becoming more socially involved not just when it comes to its own employees, but also concerning society in general, he said, adding that there is still much to be done to increase diversity.

A local talent crunch pushes companies to address a wider range of candidates, said Efrat Segev, vice president of business development at Dun & Bradstreet. Companies are now tailoring employee benefits for a more diverse workforce, she added, offering paternity leaves and financial support for surrogacy procedures in an effort to offer added value to employees.

Homegrown Israeli companies measure up to their multinational rivals in terms of employee benefits offered, Segev said. 64% of companies on the list were founded in Israel.

Israel cannot bank on multinationals operating local research and development centers, and must strive to build a tech system that includes the entire value chain, said Ami Appelbaum, Israel's chief scientist and chairman of the country's innovation investment arm, the Israel Innovation Authority.

Intel's high ranking is due to four parameters, said Karin Eibschitz-Segal, who heads the company's research and development in Israel. These are the cutting-edge technology; the meaning has for people; the company's treatment of its employees; and the corporate culture that puts the employees and their career advancement at the center. Intel is the largest tech employer in Israel, with around 12,000 people spread across its various local units.

The ranking, published for the fourth time, takes into account factors such as wages and benefits, the career development opportunities and support provided to employees, employment stability, and wellness. Out of Israel's overall tech workforce of around 300,000 people, around 70,000 are employed at the companies that made the list.

Following is the full list, by order:

1. Google Israel

2. Facebook Israel

3. Microsoft

4. Apple Israel

5. Wix.com Ltd.

6. Taboola.com Ltd.

7. Intel

8. SimilarWeb Ltd.

9. Outbrain Inc.

10. CyberArk Software Ltd.

11. IronSource Ltd.

12. Palo Alto Networks (Israel) Ltd.

13. Soluto Ltd.

14. AT&T Israel

15. Playtika Ltd.

16. Rafael Advanced Defense Systems Ltd.

17. IBM Israel

18. Nova Measuring Instruments Ltd.

19. Israel Aerospace Industries Ltd. (IAI)

20. Check Point Software Technologies Ltd.

21. Elbit Systems Ltd.

22. Amazon Israel

23. Gett Inc.

24. Intuit Israel

25. Nice Ltd.

26. KLA-Tencor Israel

27. Pluristem Therapeutics Inc.

28. EBay Israel

29. MyHeritage Ltd.

30. SAP SE's Israeli research and development center

31. Amdocs Ltd.

32. Paypal Holdings Israel

33. Natural Intelligence Ltd.

34. Amobee Inc.

35.Perion Network Ltd.

36. Webpals Group

37. Mobileye

38. Payoneer Inc.

39. Fiverr Int. Ltd.

40. AppsFlyer Ltd.

41. Tower Semiconductor Ltd.

42. Panaya Ltd.

43. Windward Ltd.

44. Applied Materials Inc.

45. Riskified Ltd.

46. Citigroup's research and development center in Israel

47. Fyber GmbH

48. DSP Group Inc..

49. Cybereason Inc.

50. Optimal Plus Ltd.