As City Bristles Over Real Estate Plans, Veteran Tel Aviv Mayor Beats Opposition
Ron Huldai was elected as mayor of Israel's financial and cultural capital for the fifth consecutive time Tuesday. His win followed a close race with upstart Asaf Zamir
Ron Huldai was elected as mayor of Israel's financial and cultural capital for the fifth consecutive time Tuesday. His win in Tel Aviv followed a close race with upstart Asaf Zamir, his deputy and right-hand man for the past decade.

For daily updates, subscribe to our newsletter by clicking here.

Huldai (74) assumed office in 1998, after a long military career and a six-year period as principal of a prestigious local high school.
Ron Huldai. Photo: Ryan Frois

According to the interim results published by Israel's Ministry of Interior, as of Wednesday at 7:00 a.m., Huldai won 55,191 votes, amounting to 46.6% of valid ballot tickets, while Zamir managed to rake in 34.2%. Final results will be announced after all votes are counted. No last moment upheaval is expected.

Zamir (38), entered municipal politics around a decade ago as the leader of a candidate list that marked itself as the voice of Tel Aviv's younger population. Currently in charge of education in City Hall, he has been at Huldai's side ever since. Known for his ties with local club owners, last year Zamir married Israeli actress and model Maya Wertheimer, granddaughter of Israeli billionaire industrialist Stef Wertheimer. In 2006, Warren Buffett's Berkshire Hathaway Inc. paid $4 billion for metal cutting tools company I.M.C. ISCAR Metal Working Companies Ltd., a company founded by Wertheimer.

It is yet unclear whether Zamir will continue to play a major role in City Hall under the re-elected mayor.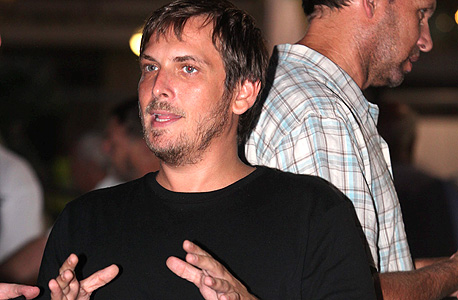 Tel Aviv mayoral candidate Asaf Zamir. Photo: Orel Cohen

Over Huldai's 20-year tenure, Tel Aviv has seen dramatic changes. Once dotted with a few and far-between high-rises, the city's skyline is now speckled with some of the tallest buildings in the Middle-East. In June, the Tel Aviv District Planning and Building Commission approved a plan to build a local record-breaking 100-story tower at the eastern outskirts of the city.

The city's planning and building policies have been at the heart of the candidates' campaigns. Huldai, who lined the coffers of Tel Aviv during his long tenure overcoming a gaping deficit, was portrayed by the opposition as the man who turned the city into a rich-only members club, while catering to big businesses, out-of-towners, and tourists.

During the campaign, public attention was turned to two building projects on Tel Aviv's coastline. Both are part of an ambitious project launched by Huldai in 2010 to remodel the city's beaches and construct a single promenade connecting Tel Aviv with neighboring coastal towns.

In May, demolition of a long-abandoned structure, once a dolphinarium, started. Under Huldai, the city decided to compensate the owners of the property, responsible for its two-decade-long neglect, with lucrative land and building rights that would let them build beachside high-rises. According to critics, the buildings would block the marine vista and alter the area's residential urban fabric. The decision is currently being contested in an Israeli court.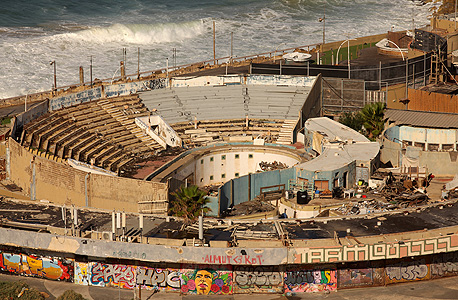 The abandoned Tel Aviv Dolphinarium. Photo: Amit Sha'al

In another project approved in June, a low building-complex overlooking the city's beaches has been scheduled for demolition, to be replaced with two 40-story buildings. A glass-coated rotunda, part of the existing complex called Atarim Square, hosted Israel's most popular nightclub in the 1980's, and is now home to a strip club called "Pussycat." In January, public attention was directed at the establishment, when Yair Netanyahu—son of Israeli Prime Minister Benjamin Netanyahu—was heard on a tape leaked to media bragging about his exploits with strippers and prostitutes. One of Yair Netanyahu's friends is recorded on the tape making a direct mention of the strip club.

A brutalist bare-concrete design, general derelict, and the presence of semi-illegal activities in and around the complex have turned the complex into a sore spot for many of the city's trendy denizens. When missiles were hitting Israel in the early 1990's Gulf War, then mayor Shlomo Lahat went as far as saying he would like to see an Iraqi missile hit the complex.

Opponents of the reappropriation plan wished to see the complex remodeled and turned into an open public square. As part of his campaign, Zamir, made it a symbol of Huldai's regime. As Huldai's deputy mayor since 2008 and chairman of Atarim, a municipally owned corporation in charge of developing Tel Aviv's coastline areas, Zamir previously claimed he was unable to oppose or support the plan due to a personal conflict of interest. Other members of Zamir's candidate list previously voted for the plan and against an opposing proposal made by council member Zippi Brand. After withdrawing her own candidacy for the mayorship of Tel Aviv last month, Brand joined forces with Zamir to become number two in his list.

A third Mayoral candidate in Tel Aviv, Israeli comedian Assaf Harel (46) got 12.1% of the votes. Best known for his politically-engaged left-wing-oriented comic monologues, Harel assembled a list of candidates including activists and representatives of the various communities in Tel Aviv including Arabs, refugees, and residents from the city's less fortunate southern neighborhoods, which are plagued by poverty and overcrowded by a government policy driving most of the country's migrant workers and asylum seekers to reside there.

In other municipal elections held throughout the country Tuesday, labor party candidate Einat Kalisch Rotem beat veteran mayor Yona Yahav in Haifa, becoming the first woman mayor of one of Israel's three largest cities.

The Jerusalem election hit a deadlock as no candidate managed to receive over 40% of the ballots. A runoff election will be held in the city in two weeks to determine between Moshe Lion, former head of Israel's national railway company and liberal candidate Ofer Berkovitch.