Nas Daily's Next Adventure: Building a Viral Video Empire
Three years ago, Nuseir Yassin decided to quit his high-paying tech job to travel the world and create daily one-minute videos
Three years ago, Nuseir Yassin decided to quit his high-paying tech job at PayPal to travel the world and create one-minute videos for 1,000 days. Nearing the end of the self-set challenge, the Israeli-born Arab Harvard graduate is now known as Nas Daily, his popular video persona. He sports over 10 million followers and his videos have garnered around 2.5 billion views. On day 1,001 he plans to start working on Nas Daily Co., a new video content agency to be based out of San Francisco.
For daily updates, subscribe to our newsletter by clicking here.
Yassin's videos put a spotlight on local trends and persons of interest, documenting stories from around 70 countries. In one video he explores Tel Aviv's burgeoning vegan scene, in another the high divorce rate in the Maldives. In a third, he showcases a Japanese inventor that created a portable, hand-held translation device. Some of his videos have more than 80 million views.
Often using questions such as "this is made of pee?" or "would you eat this?" as titles, he describes his work as "the video version of 'Humans of New York'."
Explaining his work process, Yassin said he aims for clarity and attempts to bake in a "human element" to make stories more compelling. He spends about 10 hours working on each video, Yassin said speaking at a Tel Aviv event hosted by Israeli content distribution company Outbrain Inc. on Wednesday.
At 19, he left Arraba, a small town in the Galilee (population: around 25,000), and went to Harvard. He graduated with an economics degree and worked in New York before buying his one-way ticket to Kenya to start on his globetrotting journey.
Some of the videos deal with his views on identity politics. He identifies with neither the Israeli nor the Palestinian flag.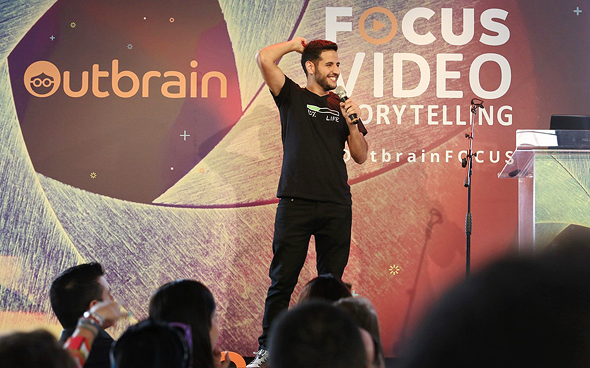 Nas Daily, Nuseir Yasin. Photo: Fabian Koldorff

In and out of the videos, he wears a T-shirt showing a battery bar representing a rough estimate of his expected lifespan vs. years lived. At 26, his current shirt reads 35%: while other people's batteries run out of life, Nas Daily's just juices up. Each day counts, and each day brings with it a fresh video.

He also sells the themed shirts. Other, more substantial revenue streams include online ads, part-time consulting, speaking engagements, and offering his video creation services to businesses.

Nearing the end of his one-thousand days challenge, he is now planning ahead. On the agenda: settling down in San Francisco, and building a creative agency.

He plans to hire around 100 similar minded content-creators from around the world and harness his proven storytelling pizzazz to help businesses create engaging videos.

"The idea is not to take every job, but rather only take the jobs you know you are going to be the best at," he said in an interview with Calcalist Wednesday.

For now, he employs six people.

"It is really hard to find creators that are good behind and in front of the camera, but that's what I am looking for."

He still plans to make weekly or bi-weekly videos about things he cares about, he said, but describes the activity as "more of a hobby than an actual commitment."