Israeli Edtech Companies Inspired by Recent China-Israel Deal
During the Global Education Summit held in Beijing last week, TAL Education Group—one of China's largest education service companies—announced it acquired Israeli game-based learning startup Codemonkey
During the Global Education Summit held in Beijing last week, TAL Education Group—one of China's largest education service companies—announced it acquired Israeli game-based learning startup Codemonkey Studios Inc.

For daily updates, subscribe to our newsletter by clicking here.

While Israel has seen much bigger Chinese deals, this was the first time a Chinese company has looked to the Israeli industry for an education technology company.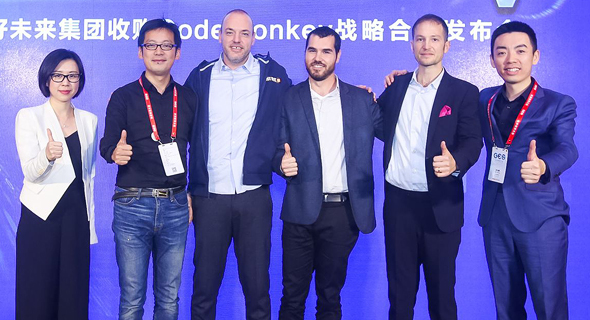 TAL Education Group and Codemonkey. Photo: Zhang Jo, vpphoto

The emphasis middle class Chinese families place on quality education starting from the kindergarten stage, and the money they are willing to spend to make sure offsprings have a head start in subjects including math, English, science, music, and even coding, has turned China into the largest education market in the world. A deficit in quality teachers, especially outside of the large urban centers, drives Chinese investments in self-study or remote-study platforms.

According to Chinese education platform JMDedu.com, in the first half of 2018 Chinese education technology companies raised $2.22 billion across 270 deals, almost matching the total sum raised throughout 2017. Online language courses and online homework platforms drew the most capital.

A July report by Navitas Ventures, the venture arm of education company Navitas, ranked Beijing in first place in terms of education technology, ahead of New York and the Bay area, taking into account criteria including the number of companies, incubators, capital raised, government support, and local collaborations. Tel Aviv was ranked ninth.

The U.S.-Chinese trade war and the increasing restrictions placed on Chinese entities looking to invest and acquire in the U.S. could be diverting attention to Israel. The current tensions mean some of her clients, even if they are billionaires, cannot obtain a U.S. visa, said Jingzhu (Margaret) Yang, founder and CEO of AmeriChina Group, a business consulting firm that connects Chinese businesses and entrepreneurs with American opportunities and vice versa. She is now considering the option of taking those clients to Israel instead, due to its status as a tech hub, she told Calcalist at last week's summit.

15 Israeli entrepreneurs and educators attended the summit, and a networking event organized by the Israel Chamber of Commerce in China.

Jacob Dayan, founder and CEO of business hub EdTech Israel, headed three Israeli delegations to China. It is hard to make inroads in the Chinese market, he said. An international player may find the local business models unfamiliar, and the government also prioritizes domestic vendors over international ones due to the strategic emphasis it places on education, he said.

"The Chinese market is large, but most of the money changing hands is in Chinese yuan and not in dollars that can be invested outside of China."

TAL's acquisition of Codemonkey could pave the way to more deals, Dayan said. The China-based company invested hundreds of millions of dollars in China and the U.S. over the last three years, and attempts to move its attention to Israel proved unsuccessful in the past. After the recent acquisitions, he said, he hopes more investments in Israeli companies will follow.

Ohad Lavi, CEO of Neurotech Solutions Ltd., a company developing a cognition and behavior analysis system, has been working with the Chinese market for 12 years. His product is currently undergoing localization in China, after long-years of signing agreements with local players that in the end did not pan out.

For Avi Snir, co-founder and CEO of tech-oriented training school Elevation Academy, the summit was his first visit to China. The Chinese market is on top of the educational trends, he said, but language is a big barrier.

"It's hard to know who your competition is here," he said. "It's not something you can just look for online, because everything is in Chinese."

At the summit, Snir said, the Israeli delegates frequently resorted to the use of Google Translate to communicate with non-English-speaking prospective business partners

While the potential is great before any product is introduced to the Chinese market it requires heavy localization. "We met with big companies and prospective investors, but anything will do here will need to be long-term," Snir said.

His target: starting to do business in China within two years.