Exits for Privately-Held Israeli Tech Companies Down 33% in 2018
The accumulated value of private merger and acquisition deals and IPOs in Israel in 2018 has gone down 33% compared with the previous year, according to a report published by accounting firm PwC Israel
The accumulated value of private merger and acquisition deals and IPOs in Israel in 2018 has gone down 33% compared with the previous year, according to a report published by accounting firm PwC Israel on Sunday. The report did not include listed companies that have been acquired.

For daily updates, subscribe to our newsletter by clicking here.

PwC counted 52 M&A deals and nine IPOs of Israeli companies, which together added up to $4.9 billion. 2017 saw 70 overall deals, totaling $7.4 billion. Seventeen of this year's M&As have each netted more than $100 million, but the average deal size has gone down as well, from $106 million in 2017 to $81 million this year.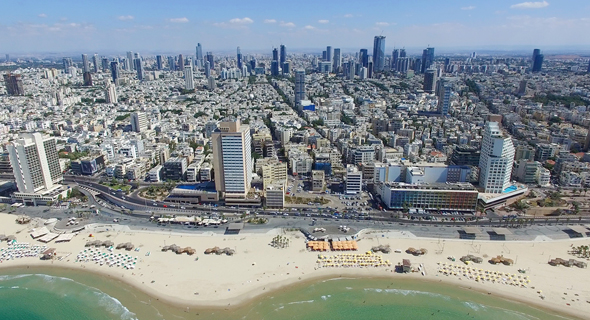 Tel Aviv. Photo: Shutterstock

PwC's report did not include deals in which previously floated companies, which had been included in past reports, were sold again, taking several of 2018's largest transactions out of the counting. These include the still-pending sale of Nasdaq-listed Orbotech Ltd. for $3.5 billion to KLA-Tencor Corporation, announced in March; Nasdaq-listed information security company Imperva Inc.'s $2.1 billion acquisition agreement with technology investment firm Thoma Bravo LLC, signed in October but still in the works; New York-listed Mazor Robotics Ltd., whose sale to Medtronic Plc for $1.7 billion was completed in December; and the acquisition of Jerusalem-headquartered NDS Group by Permira Holdings Inc. completed in October.

Five Israeli companies listed on Nasdaq and four listed on the Australian Securities Exchange (ASX) in 2018, with an accumulated company valuation of $888 million, according to the report.

The biggest M&A deal had been marketing analytics company Datorama Ltd.'s acquisition by Salesforce.com Inc. for a reported $800 million in July.