Israel to Paint Cigarette, E-Cigarette Packages with World's Ugliest Color
On Monday, Israel's parliament voted yes on a bill to limit the advertising and marketing of smoking paraphernalia in the country
On Monday, Israeli parliament voted overwhelmingly in favor of a law to restrict the advertising and marketing of smoking paraphernalia in the country. The new legalization extends current tobacco-related restrictions to e-cigarettes, and limits advertising only to print media, under significant constraints.

For daily updates, subscribe to our newsletter by clicking here.

The law, which will come into effect in a year, also mandates that all cigarette packages—including e-cigarettes by San Francisco-headquartered Juul—be painted with Pantone 448c, chosen as the world's ugliest color in 2016 by market researchers. A muddy, greenish brown, the color is already in use on packages in several countries, including the U.K., France, and Australia, where lawmakers hope it will reduce the brand appeal of cigarettes and deter people from smoking, on top of the grisly photos of smoking health damages some countries demand be printed on packages.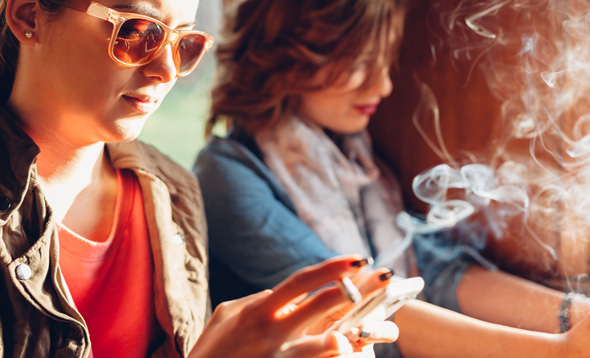 Smoking teenagers. Photo: Shutterstock

In Israel, an attempt to mandate the same pictures fell through following an objection from Deputy Minister of Health Yaakov Litzman, who called them "unappealing," but a general standardization has been approved, and the size of the current required warning texts will more than double.

The law also sets in place regulation for the manufacturing and marketing of e-cigarettes with a nicotine content higher than the European directive.

In August, Israel banned the sale of Juul's pods in the country due to their high nicotine content, forcing the company to switch out its products for a lighter version. Juul, which controls most of the U.S. e-cigarette market, launched in Israel in May with the same pods it sells in the U.S.—59 milligrams of nicotine a pod, equivalent to an entire pack of cigarettes.

In the U.K., one of Juul's only other markets besides the U.S., the company sells only 20 mg pods to comply with European Union regulations. Juul is contesting the decision in court and appealed to the Israeli Supreme Court seeking a temporary injunction to the ban, claiming other e-cigarette makers were allowed to sell pods with a higher nicotine content. The appeal was rejected.

Former Israel Minister of Health Yael German of Israeli centrist Yesh Atid cast the single vote against the bill Monday, protesting the exclusion of printed media advertising from the bill.