Japanese Minister of Economy to Visit Israel
Minister Hiroshige Sekō will lead the largest delegation of Japanese businessmen to Israel to date, including executives from Mitsubishi, Toshiba and Hitachi
Japanese Minister of Economy, Trade and Industry Hiroshige Sekō is set to arrive in Israel this week with a large delegation of Japanese businesspeople, the Israeli economy ministry announced Sunday. Sekō is set to meet with Israeli Prime Minister Benjamin Netanyahu and Israel's Minister of Economy Eli Cohen on Tuesday. Some executives from Japanese corporations will also meet with Netanyahu.

For daily updates, subscribe to our newsletter by clicking here.

This will be Sekō's second visit to the country since assuming his role in 2016. This time around Sekō will lead the largest delegation of Japanese businessmen to Israel to date. The delegation numbers 150 individuals from 90 companies, including executives from Mitsubishi Corporation, Toshiba Corporation and Hitachi Ltd.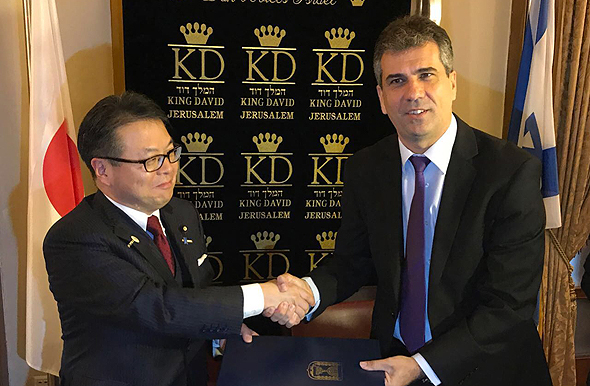 Minister of the Economy Eli Cohen. Photo: Rafi Kotz

In May, Japanese Prime Minister Shinzō Abe conducted a two-day state visit to Israel where he met with Netanyahu.

Japanese companies have been increasingly interested in the Israeli market. In 2014, Japanese e-commerce mogul Rakuten Inc. acquired Israeli messaging app company Viber Inc. for $900 million. In 2017, Japanese drugmaker Mitsubishi Tanabe Pharma Corporation acquired Israel-based pharmaceutical company NeuroDerm Ltd. for $1.1 billion. Tokyo-listed Canon Inc. acquired Israel-based video analysis company BriefCam Ltd. in July for an undisclosed amount, according to Pitchbook data.

Compass Inc., and recently rebranded WeWork, both with Israeli-born co-founders. Softbank also invested in Israeli cybersecurity company Cybereason Inc.

From 2013 to 2018, Japanese investors were responsible for 3% of the total capital raised by Israeli companies, according to a November report by Tel Aviv-based market research firm IVC Research Center Ltd.