Lime to Deploy Hundreds of E-Scooters in Tel Aviv Area in February
Former general manager of Uber Singapore Yaniv Goder will head Lime's Israel operation
San Mateo, California-headquartered smart mobility company Lime will deploy hundreds of e-scooters in the Tel Aviv area within the next few days, one person familiar with the matter who spoke on condition of anonymity told Calcalist.
For daily updates, subscribe to our newsletter by clicking here.
Former general manager of Uber Singapore Yaniv Goder will head Lime's Israel operation, the person said.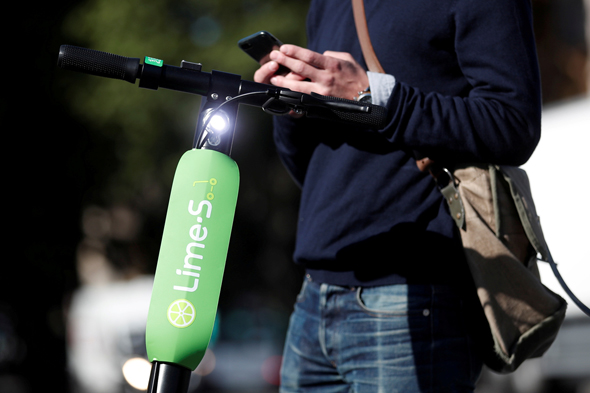 Lime. Photo: Reuters
Founded in 2017 and incorporated as Neutron Holdings Inc., Lime offers dockless on-demand bicycles, scooters, and cars that can be unlocked using a mobile app. The service is available in dozens of cities across the U.S. and Europe. Lime has raised $467 million to date from investors including ride-sharing company Uber, Silicon Valley-based venture capital firm Andreessen Horowitz LLC, GV, and the corporate venture capital arm of Google owner Alphabet Inc.
Lime intends to expand beyond Tel Aviv and is considering adding electric-bicycles and shared cars to its local offering, in a model similar to the one it offers in some parts of the U.S., according to the person.
In a September interview with Bloomberg, Caen Contee, vice president of international expansion for smart-mobility company Lime, confirmed earlier reports that the company, is looking to bring its service to Israel.
The launch of Lime's service in Israel was originally scheduled for October but was postponed to February due to technical reasons, the person familiar with the matter said.
Lime will be the third international company to offer a shared e-scooter service in Israel, following Los Angeles-headquartered Bird and Berlin-based Wind, which launched operations in Israel in August and January, respectively. In an interview with Calcalist held earlier this week, owner of Israeli electric scooter brand Inokim Kfir Ben Shushan announced his company is planning to launch its own e-scooter sharing service Leo in Israel in March.
In a crackdown following a series of fatal and non-fatal high profile accidents involving electric two-wheeled vehicles in the past few years, Israel recently increased limitations on users of electric bikes and e-scooters. New regulations that will come into force in July will require users to either have a driving license or pass a written exam, and wear a helmet complete with a high visibility strip.
Though local law allows people as young as 16 to use e-scooters, Lime, like Bird before it, chose to limit the age of its users to 18 and up, the person said.
Lime also intends to offer users app credits for charging scooters at home and redistributing them throughout the city, he added.