Under Brexit's Shadow, U.K. and Israel Sign Free Trade Agreement
The U.K. is Israel's largest European trade partner, and third largest trading partner overall. In 2018, the trade turnover between the two countries amounted to around $11 billion
On Monday, Israeli Minister of Economy Eli Cohen met with U.K. Secretary of State for International Trade Liam Fox to sign a free trade agreement between the two countries.

For daily updates, subscribe to our newsletter by clicking here.

According to the Israeli economy ministry's announcement, the agreement aims to regulate the relationship between Israel and the U.K. in preparation for the latter's split from the European Union.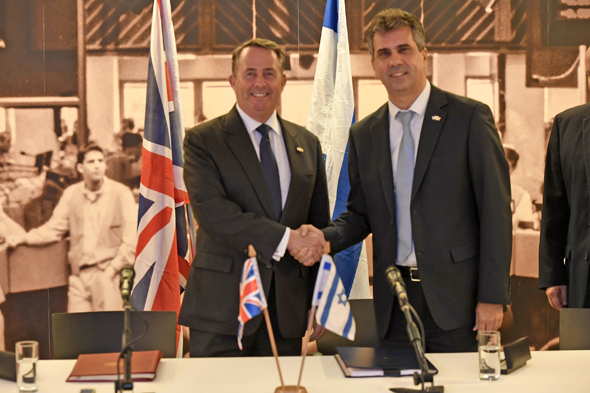 Liam Fox (left) and Eli Cohen. Photo: Jorge Novominsky

The U.K. is set to leave the Union on March 29. If it does indeed leave without a deal—as the country's current situation seems to suggest—then all 40 plus trade agreements it is automatically part of as a Union member will be voided.

In preparation, the U.K. has been signing new agreements. In January the country signed agreements with Chile, and Eastern and Southern Africa. Earlier this month it signed similar agreements with the Faroe Islands, and with Switzerland, the latter also pertaining to Lichtenstein. Mutual recognition agreements that replicate much of the conditions of a free trade agreement have been signed with the U.S., Australia, and New Zealand.

The U.K. is Israel's largest European trade partner, and third largest trading partner overall. In 2018, the trade turnover between the two countries amounted to around $11 billion, according to ministry data, a 15% increase from 2017.

Cohen stated the agreement was signed according to the same provisions Israel currently has with the European Union, to ensure the trade between Israel and the U.K. continues uninterrupted.