Attorney General to Indict Netanyahu, Israeli Media Reports
Avichai Mandelblit is set to indict Prime Minister Benjamin Netanyahu in three cases Thursday, according to news reports
Israel's attorney general Avichai Mandelblit is set to charge Prime Minister Benjamin Netanyahu on Thursday in three of the cases against him pending a hearing, Israeli TV broadcasters Keshet and Reshet reported Wednesday. Another investigation is expected to be closed without an indictment.

For daily updates, subscribe to our newsletter by clicking here.

General elections are set to take place in Israel on April 9, with most pollers anticipating Netanyahu will be chosen for a fifth tenure as prime minister. Netanyahu and his team have long been pushing to postpone Mandelblit's decision until after the elections. Following a recent merger of two of Israel's centrist parties, the new party led by Benny Gantz, a former Israeli military chief of staff, is currently polling ahead of Netanyahu's Likud party, and the race is currently seen as undecided.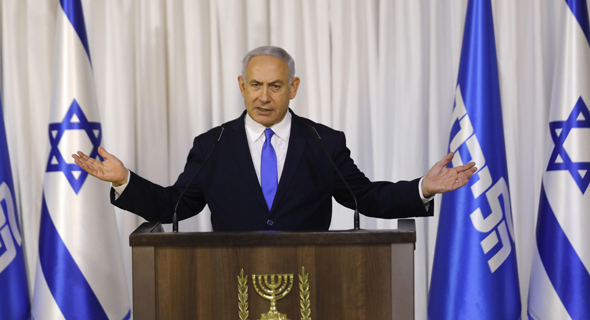 Benjamin Netanyahu. Photo: AFP

Some analysts consider the expected indictments of the Israeli prime minister as a potential game-changer, dependent on possible information concerning Netanyahu's actions to be released.

According to the reports, Mandelblit is set to indict Netanyahu for bribery in a case concerning a favorable coverage of the Israeli leader and his family on Walla, a popular Israeli news site owned by the telecom company Bezeq, possibly in exchange for government regulation that benefited the firm.

Israel's largest telecommunication company, Bezeq is controlled by a hierarchy of two holding companies, both of which are in financial distress. Eurocom Group, which previously controlled the two, received a liquidation order last year due to debt.

Other expected indictments concern cases in which Netanyahu allegedly handed out favors to two business executives and discussed potential legislation changes with the publisher of Israeli newspaper Yedioth Ahronoth.

Netanyahu hastened his return from a state visit to Russia, returning to Israel Wednesday night.

A Netanyahu spokesperson called the allegations of bribery "ridiculous," stating the decisions regarding Bezeq were approved by all regulators involved, and further referred to the investigations as a "house of cards" that will soon collapse.