Via's Tel Aviv Public Transport Service to Launch in Late March
Founded in 2012, Via operates in 32 cities across 11 countries, offering different modes of operation in different places. In November, the company announced its intention to launch the service in Tel Aviv
New York-headquartered ridesharing company Via Transportation Inc. will be launching its collaboration service with public transportation company Dan Bus Company at the end of March. Called Bubble, the service will offer Via-operated van shuttles in Tel Aviv and its suburbs Ramat Gan and Givatayim.

For daily updates, subscribe to our newsletter by clicking here.

Founded in 2012, Via operates in 32 cities across 11 countries, offering different modes of operation in different places. The company, which raised $387 million to date, already has public transport collaborations in Berlin with Daimler AG's van division Mercedes-Benz Vans and in Arlington, Texas, with the city's public transportation system. The company announced its Tel Aviv collaboration in November, with a similar service planned for later this year in Jerusalem.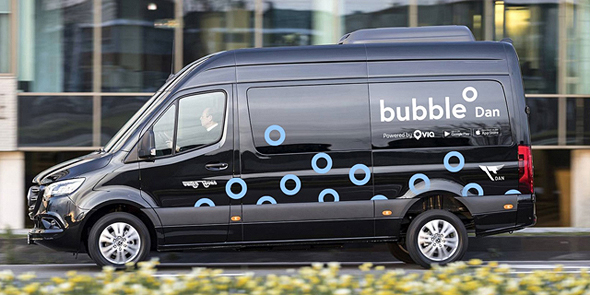 Dan's Bubble van. Photo: Dan

The service is an initiative of the Israeli ministries of finance and transportation, intended to encourage drivers to give up their private, road-congesting vehicles and also to solve the last-mile problem for commuters who use the railway to reach their workplaces.

Dan is acquiring 100 10-seater Mercedes-Benz Sprinter Minibuses for the service, which will operate Sundays to Thursdays, between 6 a.m. and 10 p.m. The possibility of extending the hours and adding service on Fridays is currently being examined. Users will book a ride via an app and input pickup and drop-off locations, and the app will devise a route for each driver based on specific users.

Passengers will be picked up only at existing bus stops and receive updated information regarding the arrival of the shuttle. Users who are consistently late will be penalized and ultimately blocked.

Fare will be set at a standard NIS 15 ($4.13) during rush hours and NIS 12 ($3.3) the rest of the time—twice the price of a bus ticket but significantly cheaper than a cab.

Boarding with large items such as collapsible bikes will be prohibited, but the service will be accessible to disabled and wheelchair-bound passengers provided they notify the driver of their need in advance.