Xiaomi's Israeli Franchise Holder to Market Brand in England, Belgium
Until now, Xiaomi products were sold in both countries unofficially, but Hemilton Group will be the first official master franchisee
Israeli electronics importer Hemilton Electric and Electronics Ltd. has received the franchise rights for Xiaomi Technology Co Ltd. in England and Belgium. Hemilton, which is the exclusive franchisee of Xiaomi in Israel, will pay the Chinese brand $10 million over 10 years for the rights, and intends to start its marketing in both European countries over the upcoming months.

For daily updates, subscribe to our newsletter by clicking here.

Hemilton aims for $50 million in annual sales in England and $10 million a year in Belgium, company co-owner Efraim Aharoni told Calcalist in an interview. Hemilton already has existing connections in both countries with local mobile operators.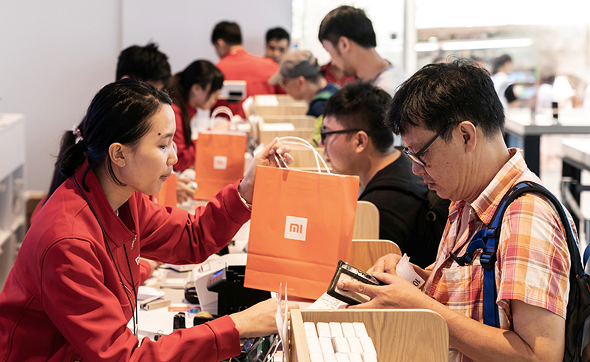 A Xiaomi store. Photo: Bloomberg

Until now, Xiaomi products were sold in both England and Belgium unofficially, but Hemilton will be the first official master franchisee. The company intends to sell all of Xiaomi's consumer electronics products—among them mobile devices, vacuum cleaners, and electric scooters.

Founded in 1990, Hemilton Group is considered a medium-sized importer in Israel, but the popularity of Xiaomi's products in Israel boosted the company in recent years.

According to recent data by German market research company GFK SE, in September Xiaomi bypassed Apple to become the second largest mobile device seller in Israel, providing 18.7% of all devices sold locally in the open market compared to Apple's 13.9%. Samsung continues to be the undisputed ruler, with 49.3%.

Also in September, business development manager for Hemilton Avi Korenfeld told Calcalist that Xiaomi's e-scooters are selling out faster than shipments arrive, bolstered by Israelis' enthusiastic adoption of the vehicle.