NSO Founders Raised $500 Million to Buy Back Control of Company
Last month, the co-founders and management team of the Israeli surveillance company announced they bought it back from majority stakeholder Francisco Partners
The co-founders of Israeli surveillance company NSO Group raised a $500 million loan to buy back their company from majority stakeholder Francisco Partners Management LLC, according to new reports published Tuesday by Moody's Investors Service and S&P Global.

For daily updates, subscribe to our newsletter by clicking here.

NSO announced its founders' buyback plan last month, saying they were backed by European private equity firm Novalpina Capital and financed and advised by Jefferies Group LLC, but leaving out the financial terms of the deal. A spokesman for the company later divulged the transaction was signed according to a valuation "just short of $1 billion." Francisco Partners paid $130 million in 2014 for a 70% stake in NSO.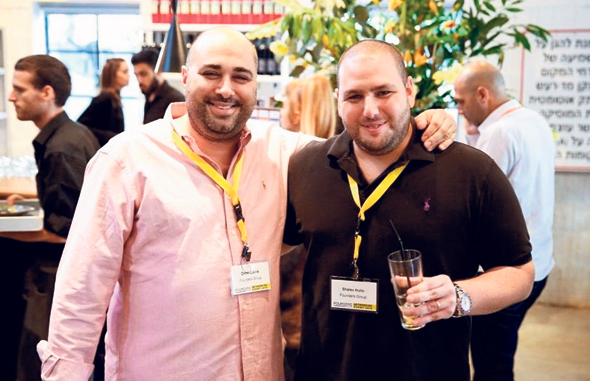 NSO co-founders Omri Lavie (right) and Shalev Hulio. Photo: Bar Cohen

S&P, in its report, placed NSO's valuation at $830 million. S&P also reported that NSO saw its revenues increase by 25% in 2018, and its adjusted EBITDA increase by 23.5%. S&P's report also noted that NSO has a solid 20% growth in product bookings, as well as conversion of the majority of new product revenues from 2018 into recurring maintenance fees.

Following Calcalist's request for a comment, a spokesman for NSO confirmed on Tuesday that NSO raised the $500 million loan from Credit Suisse and Jefferies.

In its report, Moody's assigned NSO a B2 CFR ratings, which it said reflected the group's solid performance in recent years. Moody's estimated that the company generates at least $80 million in free cash flow annually.

NSO develops spyware that can remotely hijack a smartphone, gaining access to calls, messages, and any other stored data. The Israeli firm repeatedly stated in the past that it sells exclusively to governments and law enforcement agencies and that its spyware has saved tens of thousands of lives. In recent months, NSO made headlines around the world due to the alleged use of its spyware to surveil journalists, politicians, and human rights activists.