Nvidia Enters Collaboration With Israeli Data Startup Iguazio
Last week, Nvidia announced it has agreed to acquire Israeli chipmaker Mellanox for $6.9 billion
Nvidia Corporation has signed an agreement for technological and business collaboration with Israel-based big data management startup Iguazio Systems Ltd., the companies announced Tuesday. The companies did not disclose the financial terms of the deal.
For daily updates, subscribe to our newsletter by clicking here.
Last week, Nvidia announced it has agreed to acquire Israeli chipmaker Mellanox Technologies Ltd. for $6.9 billion, its biggest-ever acquisition.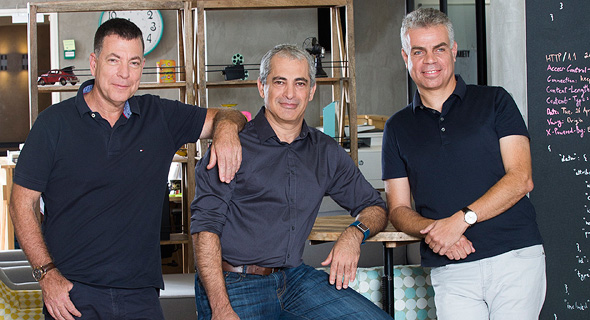 Iguazio co-founders Yaron Segev (left), Yaron Haviv, and Asaf Somekh. Photo: Yanai Yechiel
Nvidia said it expects Mellanox's acquisition to boost the company's data center business, and that it intends to continue investing in Israeli talent. The company already employs several dozen people in Israel after opening a local research and development center in 2017.
Iguazio offers data management services and artificial intelligence tools designed to improve the performance, security, and scalability of machine learning applications. Earlier this month, the company announced an investment from Samsung SDS Co Ltd., the software and IT arm of multinational conglomerate Samsung Group. The companies did not reveal the size of the investment but said that as part of the deal, Samsung SDS will incorporate Iguazio's technology into Samsung's cloud services portfolio. Founded in 2014, Iguazio has raised $48 million to date, not including the latest Samsung investment, according to Pitchbook data.