Real Estate Developers Have Turned This Historic Tel Aviv Neighborhood Into a Hotel Lobby
One of three apartments in Tel Aviv's historic Kerem HaTeimanim neighborhood now serves as a vacation rental
Kerem HaTeimanim, a historic central Tel Aviv neighborhood, has become one of the city's most popular destinations on Airbnb. Using adjectives like "authentic" and "romantic," small-time Airbnb hosts and vacation rental businesses are luring tourists in, and, inadvertently, pushing neighborhood old-timers out.

For daily updates, subscribe to our newsletter by clicking here.

Flanked between Tel Aviv's fragrant, boisterous Carmel Market and the bustling, smog-filled Allenby Street, and—like much of the city, located just a quick walk from the beach—Kerem HaTeimanim (in Hebrew: Vineyard of the Yemenites) is one of Tel Aviv's oldest neighborhoods. Established in 1906 by Yemenite Jewish immigrants, it predates the city itself.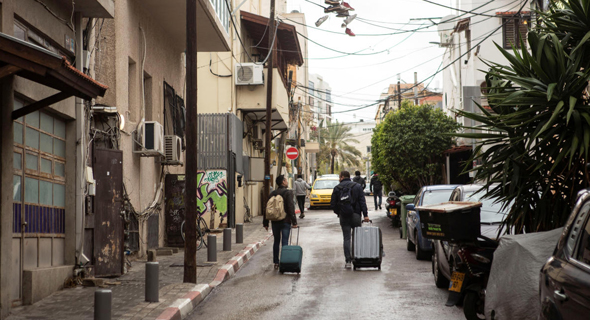 Kerem HaTeimanim. Photo: Tomi Herpaz

A less-advantaged neighborhood composed of small, one or two-family homes and inhabited mainly by Israelis of Yemenite descent, the Kerem—as it became known—was overlooked for years, left out of many of the city's urban development initiatives and rarely garnering as much attention as Tel Aviv's more affluent quarters. With little interest from outside, the Kerem was allowed to maintain its narrow roads and modest, low-rising buildings as the rest of the city expanded. Consequently, inside the Kerem's enclave flourished a close-knit social system that has long become extinct in other parts of Tel Aviv.

In recent years, a boost in international tourism (more than 4 million tourists visited Israel in 2018, a 14% rise from 2017, according to data published in January by the Israeli Ministry of Tourism) and the opportunity created by Airbnb and similar short-term subletting platforms have taken a big bite out of Tel Aviv's residential areas. But no other neighborhood, it seems, suffered a more significant upheaval than the small, forsaken Kerem.

Since the 1990s, the neighborhood withstood more gentle tides of gentrification, maintaining its quiet, familial quality and small Yemenite mom-and-pop eateries as students, artists, and young families moved in one by one. Today, it is a different story. The small neighborhood's streets feel more like a hotel lobby: dozens of tourists are around at all times, easily identified by the suitcases they are pulling behind them, by their purposeful exploration of Google maps, or by the fact that they are free to crowd the neighborhood cafes at all hours of the day.

According to data provided by the city of Tel Aviv, Kerem HaTeimanim has 3,100 residential units, some 1,000 of which are regularly rented out to tourists through Airbnb and similar platforms—a third of the neighborhood's apartments and more than 10% of all Airbnb apartments in the city.

Tel Aviv is one of the world's most expensive cities (the tenth most expensive in the world, according to the 2019 worldwide cost of living report published by the Economist in March). With tourism on the rise, vacation rentals have become a lucrative business. In July 2018, a Bloomberg report found Tel Aviv to be among the ten most expensive cities for short-term accommodation rentals through Airbnb. The city came up fourth out of 120 cities surveyed, with an average overnight rate of $188, more costly than New York and London.

Many of the Kerem's vacation rentals are in new developments that are now popping up everywhere, towering above the neighborhood's remaining original buildings. Almost every street here now features an active construction site, and completed buildings are furnished and immediately rented to short-term visitors.

The Kerem's Yom Tov Street, which is parallel to the Carmel market, used to house small shops selling spices, dried fruits, and legumes. In recent years, these shops had been gradually replaced by cafes, bars, and fashionable eateries. One of these new establishments is the popular Yom Tov Cafe.

Yaniv Kobi, one of the cafe's owners, enjoys the tourism boom. "There are hours when the cafe is filled with tourists," he told Calcalist in a recent interview. "We collaborate with the owners of the vacation rental units, who give out vouchers for breakfast at the cafe, and pay me at the end of the month." Kobi works mainly with people and companies operating multiple units. "Those who only have two or three units—it is not worthwhile for me to work with them," he said.

Adi Mahalu introduces himself as an expert on Airbnb. 'Art director and concept advisor for boutique vacation rentals' is the title he prefers. In a recent interview, he told Calcalist he had already developed several buildings in the neighborhood. Mahalu helps Airbnb hosts build a business plan, adding up maintenance and cleaning costs and municipal taxes to determine how much would-be hosts should invest in the renovation, and how much they should charge. He is part of an entire industry which evolved alongside the tourists and the real estate owners.

Last summer, Israeli hotel chain Fattal (listed as Fattal Holdings (1998) Ltd.) joined in, opening its own vacation rental building in the neighborhood. The company is actively scouting additional locations as part of a project is led by Yuval Fattal, son of Fattal group owner David.

"We look for places in prime locations in Tel Aviv, and Kerem HaTeimanim is the most prime," Yuval Fattal told Calcalist in a recent interview.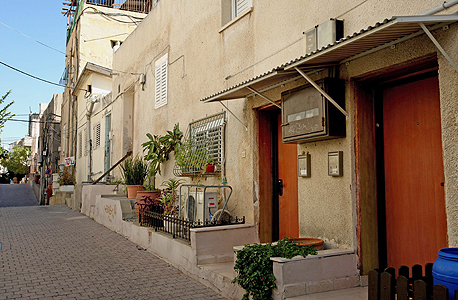 Kerem HaTeimanim. Photo: Amit Sha'al

Avi Mizrahi was born in the Kerem 45 years ago and lived in the neighborhood his entire life. He is renting a 100-meters one story home, but his landlord already informed him that the building is set to be demolished and replaced with a new three-story building. Another apartment he was looking to rent fell through—the owner was offered a lot more money to turn it into a vacation rental unit. "Soon, I'll have to move," he told Calcalist recently. "I don't want to leave, but I don't have a choice."

This is just another reincarnation in the life of the neighborhood, Mizrahi said. "In the 1990s, we still had an image of a slum; women were afraid to walk around at night. People back then bought up these apartments for ridiculous prices," he said. "Later came the young people, the place became more vibrant, attractive... Then came Airbnb—and everything changed."

Nurit Zarfati, who has lived in the neighborhood for most of her 63 years, is another member of a slowly disappearing group of original Kerem residents. In a recent conversation, she complained about the noise and congestion caused by the many tourists. More importantly, she said, the tourists are impeding the neighborhood's development. "The people crowding the neighborhood nowadays are people who only care about money," she said. "There are a lot of young couples with kids who live here and want to continue living here—but there are no apartments."

Lior Kay Avishai, a 47-year-old social worker who was born in the Kerem and is a member of the neighborhood council, calls it "creeping deportation." In a recent interview, he told Calcalist that many of his childhood friends feel that they have been forced out of their neighborhood. There was nothing illegal about it, he said, but it is clear that it was an intentional effort orchestrated by people with money.

According to Avishai, the only way to save the neighborhood is to legally restrict the number of apartments allowed to operate as short-term rentals. Similar restrictions came into law in several cities across the world in recent years, including Paris and Amsterdam. Avishai is not impressed with the city's plan to hike municipal taxes for Airbnb apartments, which the city announced earlier this year. "It is just a way to legitimize this phenomenon," he said. "This way, the city can turn the Kerem into one big hotel."

In a response to Calcalist's request for a comment, a spokesperson for the city of Tel Aviv said that short-term rentals have yet to be regulated by Israeli law, despite the city's appeals to the government. "Until the issue is nationally regulated, the city is working to address it with the tools available to it."