Central Tel Aviv Street to Double Occupancy With 2,850 New Apartments
The city of Tel Aviv is advancing a plan to build thousands of new apartments atop existing buildings along Ibn Gvirol Street, a busy residential and commercial street and the seat of city hall
The city of Tel Aviv is planning to build thousands of new apartments on the city's central Ibn Gvirol Street, a busy residential and commercial street and the seat of the city hall. According to documents reviewed by Calcalist, the city is promoting a plan to build 2,850 apartments atop existing buildings along the street, which runs from the city's northern Yarkon River Park through the Tel Aviv City Hall at Rabin Square and further south to meet with Dizengoff Street. The street now has approximately 2,300 apartments, according to the city.

For daily updates, subscribe to our newsletter by clicking here.

Today, most of the buildings on the street are up to four stories tall. If the plan is approved, owners of apartments along the bustling street would be able to enter real estate development schemes that will add three to five stories to their existing buildings.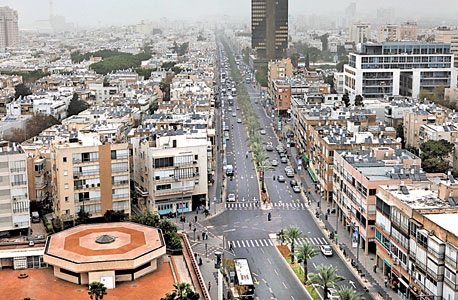 Ibn Gabirol Street. Photo: Amit Sha'al

Some of the buildings where reconstruction is planned are part of the UNESCO-designated White City area, revered for its many examples of Bauhaus architecture.

Like most large urban centers in the world, Tel Aviv is contending with an ever-growing need for residential spaces. According to municipal data, Tel Aviv residents numbered almost 450,000 at the end of 2017, a fifth of Israel's population at the time, with an annual growth rate of around 5,100 new residents. According to 2017 data by the Israeli Central Bureau of Statistics, 43% of Tel Aviv's space is residential, making for 18,754 people per residential square kilometer. At the end of 2016, according to the bureau, Tel Aviv had 202,110 residential apartments. According to data the city hall published earlier this year, Tel Aviv now has 205,500 residential apartments.

Tel Aviv is the tenth most expensive city in the world, according to the 2019 worldwide cost of living report published by the Economist Group last month.