POV
Riding Around in a Bubble
On Monday, Via, in collaboration with Israeli public transportation company Dan, launched its new on-demand shuttle van service in Tel Aviv
Yaron, the Bubble driver who picked me up at Tel Aviv's Central Train Station, was very happy to see me. "You're my first real passenger," he said. Bubble is a new on-demand van shuttle service operated by New York-headquartered ridesharing company Via Transportation Inc. in collaboration with Israeli public transportation company Dan Bus Company, for which a pilot launched in Tel Aviv Monday.

For daily updates, subscribe to our newsletter by clicking here.

There were several other passengers already in the van—a news team from Israeli national broadcaster Kan that was disappointed to realize the "passenger" was just another journalist looking to check out the new service.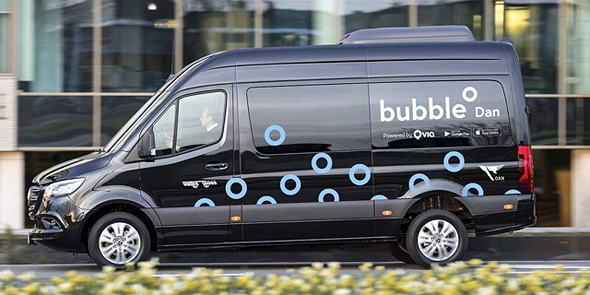 A Bubble van. Photo: Dan Bus Company

Bubble lets users order rides through a designated app that automatically devises a route to best suit the needs of all passengers. Passengers are picked up and dropped off only at existing bus stops, to which they are directed by the app. Users are charged a flat NIS 15 (approximately $4.2) fee for a single ride during rush hours and NIS 12.5 (approximately $3.5) the rest of the time—twice the price of a bus ticket but significantly cheaper than a taxi. Senior citizens are eligible for a 50% discount, and a 10-ride subscription is also available for NIS 120 (approximately $33.7). Service is available on workdays, Sunday through Thursday, between 6 a.m. and 10 p.m.

As of Monday, 40 10-seater Mercedes-Benz Sprinter Minibuses are available in a limited area: between Tel Aviv's Kakal Boulevards in the north, Hahagana Street in the south, the beach promenade in the west, and neighboring suburb Ramat Gan's Ben Gurion Street in the east. Via intends to add 60 vehicles by June and expand to Jerusalem, Haifa, and additional Tel Aviv suburbs in the upcoming months, using funding from Israel's ministry of transportation.

The app is simple enough to use, and when I ordered a car from Tel Aviv University to the train station it let me choose between a vehicle arriving in eight minutes and another in 12.5 minutes. After choosing, I was sent to a bus station 200 meters away, giving me the double satisfaction of both saving on cab fare and doing some exercise. Someone with small children or heavy groceries, however, may find this less enticing.

A Bubble van arrived two minutes ahead of the time predicted by the app and parked on the other side of the street. As I stood there and wondered whether I misunderstood the app's instructions, the car started again, made a U-turn and stopped at my station. "We're still trying to figure out the app's directions ourselves," my driver, Tal, said.

Riding a Bubble is a somewhat luxurious experience for those accustomed to Israeli public transportation and even to taxis. The air conditioning works well, there's more space, decent WiFi, and a USB plug socket is available for every seat. A large screen displays the names of the passengers and the distance from their destinations in minutes. Both vehicles I used were spotless, but it is their first day on the job after all. Bubble does choose the best route to get you to your destination, but since it only stops at bus stations it can add at least several minutes of walking to every trip.

Bottom line: Bubble can definitely supplement the transportation needs of train passengers and can help those traveling through heavily congested roads to Tel Aviv's distant northern neighborhoods, including Ramat Hahayal, which is home to numerous startups. Its main advantage compared to using a private vehicle is its ability to use public transportation routes to avoid heavy traffic. However, its price and limited operating hours that—as is the case with the rest of Israel's public transportation system—do not include nights and weekends, make it a good option for office workers, less so for anyone else.