Stocks of Israeli Shopping Malls Drop as Amazon Prepares to Enter Local Market
Earlier on Tuesday, Israeli news site Ynet reported Amazon has contacted Israeli merchants already active on its platform to begin marketing their products to local customers
Reports of Amazon's imminent entrance into the Israeli market have sent the stocks of local operators of leading shopping malls plummeting on the Tel Aviv Stock Exchange by market close Tuesday.

For daily updates, subscribe to our newsletter by clicking here.

The stock of Azrieli Group Ltd., which owns and operates 15 malls in Israel including the mall at Tel Aviv's Azrieli Center, the Ayalon Mall in Ramat Gan, and Malha Mall in Jerusalem, dropped 2.85%, trading at NIS 204.8 (approximately $56.8); BIG Shopping Centers Ltd., the operator of 22 open-air malls throughout the country, saw its stock drop 3.01% to NIS 251.4 (approximately $69.8); and Melisron Ltd., the owner of Ofer Malls, which operates 20 shopping centers, dropped 2.78% to NIS 181.6 (approximately $50.4).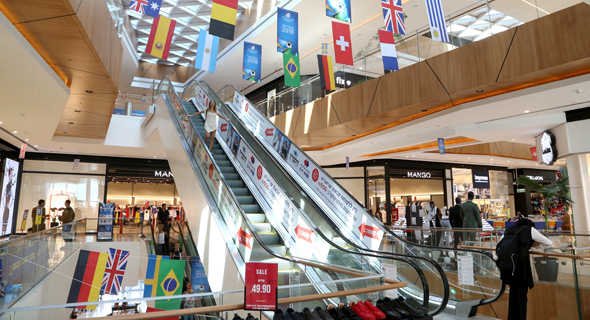 An Azrieli mall in Rishon LeZion. Photo: Zvika Tishler

On Tuesday morning, Israeli news site Ynet reported that Amazon has contacted Israeli merchants already active on its platform to begin marketing their products to local customers.

Israeli consumers are doing more of their shopping online. In 2018, Israel Postal Company Ltd. delivered over 65 million packages weighing a total of 14.1 tonnes from outside the country, representing a 6.6% rise in the number of packages and a 22% rise in weight compared to 2017, according to data released by the state-owned company in January.

Amazon currently delivers to Israel through the country's postal service, mainly from warehouses in the U.S. and Europe. In June 2018, Calcalist reported that Amazon is in talks with an Israeli delivery company regarding the possibility of outsourcing its local deliveries.

Calcalist first reported Amazon intends to enter Israel in November 2017.

Despite Amazon's looming entrance and the potentially negative impact it holds for some local brick and mortar retailers, Ronen Menahem, a chief analyst at Israel's Bank Mizrahi Tefahot, is unconcerned. It is important to remember that the initial impact on the stocks may be negative but the long term economic effect will likely be less dramatic, Menahem said in a phone interview with Calcalist Tuesday.

The companies that currently operate malls have been aware of Amazon's interest in the market for two years and are working to extend their reach to new industries other than retail where Amazon has no foothold, Menahem said. These new fields include office real-estate, catering, and entertainment complexes, he added.

Earlier this month, BIG announced it has acquired a 50% stake in an 8,600 square-meter lot in Belgrade, intended for the construction of a 34,000-square-meter office building.

One of the main concerns in the industry is that Amazon's entrance will expand the e-commerce market and bring prices down, Menahem said. Since many local brands already operate online shops and international brands are unlikely to forgo their presence in malls, Menahem believes these aspects would likely be less significant.