Israel Bombed Hamas Building to Thwart Cyber Attack
A ceasefire between Israel and Hamas was announced early Monday morning, bringing an end to 48 hours of fighting that saw 23 Palestinians and four Israeli civilians dead
The Israel Defense Forces (IDF) have bombed a building belonging to Hamas in the Gaza strip in order to thwart an attempted cyber attack against Israeli targets, the military announced Sunday. The attack targeted the building where Hamas operatives were working, following successful cyber defense measures from Israel, the military said.
CLEARED FOR RELEASE: We thwarted an attempted Hamas cyber offensive against Israeli targets. Following our successful cyber defensive operation, we targeted a building where the Hamas cyber operatives work.

HamasCyberHQ.exe has been removed. pic.twitter.com/AhgKjiOqS7

— Israel Defense Forces (@IDF) May 5, 2019
A ceasefire between Israel and Hamas was announced early Monday morning, bringing an end to the recent round of fighting. The Israeli army lifted all restrictions for Israel's south at 7:00 a.m., allowing schools to be opened as usual. 690 rockets were launched from Gaza to Israel in the 48 hours of fighting, and Israel responded by bombing 350 Islamic Jihad and Hamas targets. Some direct rocket strikes resulted in four dead and four wounded on the Israeli side. Palestinian authorities reported 23 dead, including two pregnant women and two infants.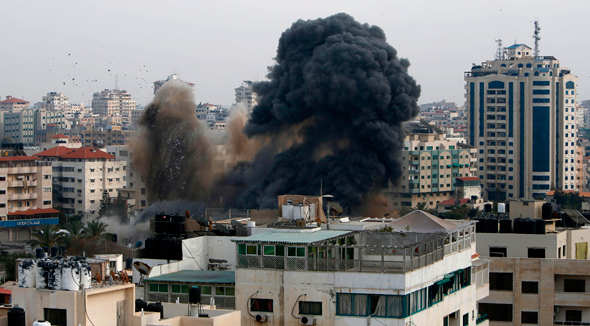 Israeli strikes in Gaza. Photo: AFP

The current round started following a delay in the transfer of Qatari money into Gaza.

Many of Israel's politicians called for less restraint in the army's responses. Bezalel Smotrich of the far-right party the Union of Right-Wing Parties (URWP) stated the operations should've ended with "as many dead terrorists" as launched rockets, while Likud party member Gideon Sa'ar said a ceasefire is "no achievement" for Israel.

Former chief of staff of the Israeli military Benny Gantz, the current leader of the centrist Blue and White party, said Israel's military has lost its ability to deter Hamas from acting, criticizing the current government by calling the recent round a surrender to Hamas' blackmail. Gantz himself has been heavily condemned by right wing politicians during the recent election process for being too soft on Gaza and Hamas.