Alternative Energy Company EWP Gearing Up for Nordic IPO
The Israel-based company designs and manufactures devices that convert wave energy into electricity
Alternative energy company Eco Wave Power Ltd. (EWP) is gearing up for an initial public offering on Nasdaq First North, a division of the Nasdaq Nordic stock exchange, according to publications in Swedish media that were confirmed to Calcalist by company co-founder and CEO Inna Braverman.

For daily updates, subscribe to our newsletter by clicking here.

While the company's prospectus is still being processed by the Swedish financial supervisory authority, EWP is aiming to raise $12 million to $20 million according to a company valuation of $50 million to $70 million, Braverman said in a recent interview with Calcalist.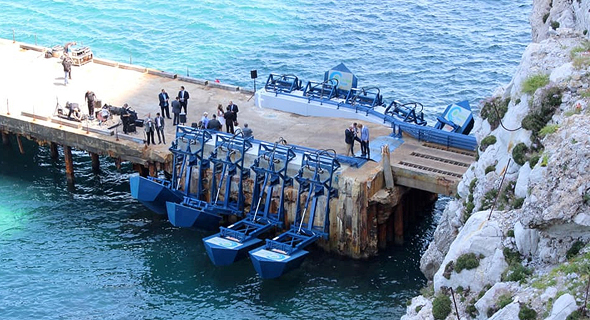 EWP's Gibraltar power plant. Photo: Echo Wave Power Ltd.

EWP decided to list in Sweden as the country obtains over half of its energy from renewable power sources, and investors are more open to the industry, Braverman said.

Braverman Founded EWP in 2011, at the age of 24, together with current chairman David Leb. She credits her interest in alternative energy sources to her childhood breathing problems, a result of being born in Ukraine a few weeks before the Chernobyl nuclear disaster and its resulting radiation and air pollution.

EWP designs and manufacturers wave energy converters. The company's devices employ uniquely-shaped floaters, and their motion is transmitted to land-based power stations via attached arms. The waves' motion energy is converted to fluid pressure and used to spin a generator, producing energy.

Waves have a greater energy conversion efficiency compared to wind or solar power, as a completely flat ocean is a very rare occurrence, Braverman said.

While the domain is considered promising, several companies have tried in the past to build similar devices in the form of platforms a few kilometers from shore, but high construction costs and wariness from insurance companies weighed down on the industry. Another prevalent problem is the unreliability of the technology, which requires waves higher than 60 centimeters but can sustain damages if the waves are too high.

EWP already operates one small plant in Gibraltar that generates 100 kilowatts per hour, which cost $450,000 to build according to Braverman. The company has also signed an agreement with the government of Gibraltar to establish a plant that will generate five megawatts—15% of the country's energy consumption. EWP also has a trial power plant in the Jaffa port in Israel, funded by a grant from the Israeli Ministry of Energy and Water Resources.

EWP already has initial revenues coming in, but requires a significant funding source to construct its upcoming power plants, Braverman said. An IPO could help the company receive bank funding and avoid diluting existing shareholders in the future, she said. Furthermore, as a company that not only designs and builds these plants but also operates them, being a public company would make working with governments easier to manage.

EWP currently employs 20 people in its Tel Aviv office. The company has raised $5 million to date across two rounds, the last one in 2017 according to a company valuation of $40 million. Post-IPO, Braverman and Lab will each remain with a 30% stake in the company.