Trump's Political Agenda Could Threaten Independence of Federal Reserve, Says Former Chair
Economist Janet Yellen spoke at a symposium held at Tel Aviv University, from which she received an honorary doctorate Thursday
The political agenda spearheaded by U.S. President Donald Trump could threaten the independence of the Federal Reserve, according to former chair Janet Yellen. Speaking Friday at a symposium held as part of the board of governors meeting at Tel Aviv University, from which she had received an honorary doctorate the previous day, the American economist said the president's attacks against the Fed could negatively impact public trust in the bank.

For daily updates, subscribe to our newsletter by clicking here.

The American economy has completed its recovery from the 2008 financial crisis and reached an historically low unemployment rate, Yellen said, leading the Fed to decide to keep its interest target range at 2.25%-2.5%. One of the major risks to the economy, however, she said, is trade-related tensions between the U.S. and China, which could slow growth both globally and in the U.S. "So it's appropriate that the direction and timing of future interest rate moves depend on incoming data that bear on the outlook," she said.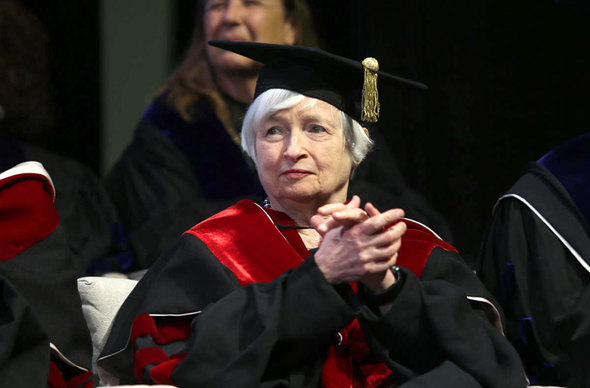 Janet Yellen at Tel Aviv University Thursday. Photo: Orel Cohen

A more long-term issue for the Fed is its independence, Yellen said. "Like most other central banks, the Fed has been structured by Congress to be able to make monetary policy decisions free of political considerations, and I can personally attest that politics have never been present at the Federal Open Markets Committee (FOMC) table," she said.

"Research clearly supports the conclusion that independent central banks improve macroeconomic performance," she continued. "However, President Trump has been highly critical of Fed policy in recent months, and has threatened to appoint individuals to the board who would be driven by political agenda. The threats at this point to Fed Independence are not severe in my view, but could become more severe over time, and especially if these attacks undermine public support for the Fed."