Tech Investor Yossi Vardi Joins Protest Against Bill Granting Immunity to Prime Minister Netanyahu
On Saturday, tens of thousands of people protested outside the Tel Aviv Museum of Art against a proposed bill that would grant Netanyahu immunity from possible indictment in three separate criminal cases
Israeli entrepreneur and tech investor Yossi Vardi is throwing his weight behind the recent protests against a bill that will grant Israeli lawmakers, including sitting Prime Minister Benjamin Netanyahu, automatic legal immunity. Vardi has joined the group of 100 Israeli tech and business entrepreneurs that have spoken against the bill.

For daily updates, subscribe to our newsletter by clicking here.

Earlier this month, around 200 Israeli lawyers launched a protest against what they called the government's unprecedented attack on the country's supreme court.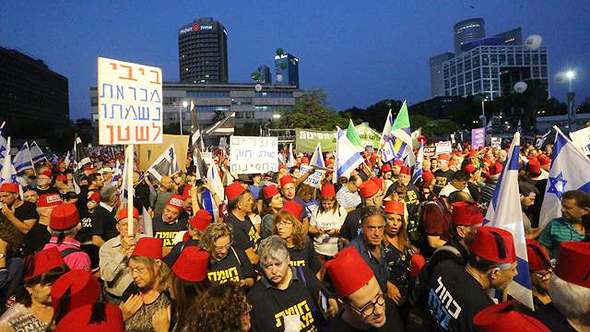 Protest against immunity bill in Tel Aviv. Photo: Motti Kimchi

Since 2005, the Israeli parliament, also known as the Knesset, can vote to grant immunity to its elected officials. According to the proposed bill, immunity will be awarded automatically and be revoked only following a vote by the Knesset members. On Saturday, tens of thousands of people protested against the proposed legislation outside the Tel Aviv Museum of Art.

Last week, the Israeli parliament announced it is set to vote on the bill, filed by supporters of Netanyahu, who is currently facing possible indictment in three separate criminal cases. The group of entrepreneurs is calling the bill an attack on Israeli democracy. In a letter sent to Israeli lawmakers, the group wrote that they cannot stand idly by as the building blocks of Israel's rule of law are threatened.

"There was this point when I told myself it was impossible to remain silent," Vardi said in an interview with Calcalist last week.

"I have lived in this country since its founding day, I see what they are trying to 'cook' for us now and I do not like it," Vardi said. I hope that at least 10% of all those who think like me but still remain silent will finally express their opinions."

"This attempt to harm Israel's democracy is frightening me," Eckhouse told Calcalist.

Dov Moran, the co-founder and CEO of USB flash drive developer M-Systems bought by Sandisk in 2006 for total compensation of more than $1 billion, told Calcalist that while he did not sign the letter, he supports the protest. It is not a partisan initiative, but one that is trying to secure our democracy, he said.