Israeli Ministry of Defense Hinders Green Energy Projects in Golan Heights
Backtracking on previous agreements, the ministry is allegedly claiming that green energy entrepreneurs are disrupting regular military operations in the area
The Israeli Ministry of Defense is stymieing wind energy projects in the Israeli Golan Heights, according to several people familiar with the matter who spoke to Calcalist on condition of anonymity. The ministry is demanding payments in the hundreds of millions of shekels to upgrade equipment and infrastructure, claiming entrepreneurs are disrupting regular military operations in the area.

For daily updates, subscribe to our newsletter by clicking here.

In 2009, Israel set a target of achieving 5% green electricity by 2014 and 10% by 2020. As of May 2019 it is just scraping by 6.5%. The government is therefore doubly interested in promoting clean energy ventures, which could also lower electricity prices in the country.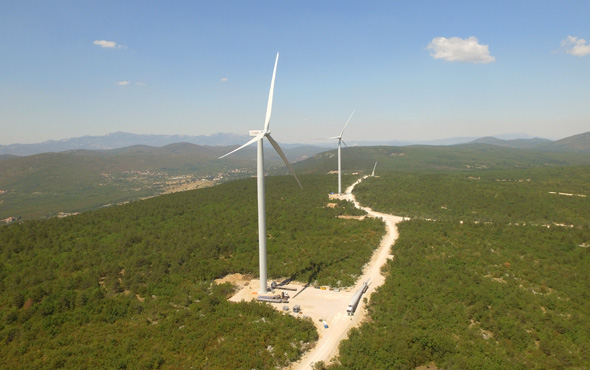 Wind turbines. Photo: Enlight Renewable Energy Ltd.

To promote the Golan Heights wind energy projects, the Israeli Ministries of Energy and Finance set up an inter-ministerial team with the ministry of defense. Over the past year, the ministries had worked towards a settlement that netted the ministry of defense NIS 230 million (approximately $64 million) for upgrades that will prevent the windmills from cluttering military radars.

Under the agreement, part of the sum was to come from the entrepreneurs themselves, who had already calculated it into their project expenses, and also from general energy subsidies. Some entrepreneurs have already paid the ministry of defense in order to start setting up their wind farms.

However, three weeks ago the talks between the energy and finance ministries and the defense ministry hit a roadblock, according to the people familiar with the matter. This happened after the defense ministry allegedly went back on the agreement and asked to price each project separately, with the agreed-upon NIS 230 million sum serving as a "starting point."

The new demand shocked the finance and energy ministries, according to the people familiar with the matter, with government officials criticizing the defense ministry for treating the entrepreneurs as its petty cash fund. The talks are currently at a standstill, and so are the projects and their founders.

The projects currently in the process of being built or approved could provide up to 1,000 megawatts, according to talks Calcalist held with some of the entrepreneurs—7.3% of the production capacity of the Israel Electric Corporation. Some of the wind farms, set to be constructed on land leased from local kibbutzim, could net their lessors millions of shekels a year.

The projects, however, are also seeing opposition from environmental organizations, who claim they could pose risk to migratory birds.

The ministry of defense considers the project to be an important one and therefore promotes it in collaboration with the ministries of energy and finance, a spokesperson for the defense ministry told Calcalist. The details of the talks, however, and especially on matters of security, should remain between the ministries, the spokesperson said.