Acquisition Approval Still Pending, Aeronautics Erases $23 Million Due to Accounting Mistake
In April, Aeronautics' board approved its sale to Israeli defense contractor Rafael according to a company valuation of $237 million
With its sale to Israeli defense contractor Rafael Advanced Defense Systems Ltd. and Israeli businessman Avihai Stolero still being debated by the Israeli regulator, drone maker Aeronautics Ltd. opened 2019 by erasing $23 million due to an accounting mishap.

For daily updates, subscribe to our newsletter by clicking here.

Aeronautics' board of directors approved the sale, made according to a company valuation of $237 million, in April, capping a hard year and a half for the drone maker. The Israeli Ministry of Defense halted the company's license to export a loiter munition UAV system to an undisclosed but significant client in August 2017. A lengthy probe by Israeli Police and the Israel Securities Authority into suspected violations of the Israeli defense export controls law followed. As a result, Aeronautics closed 2018 with an operational loss of $5 million.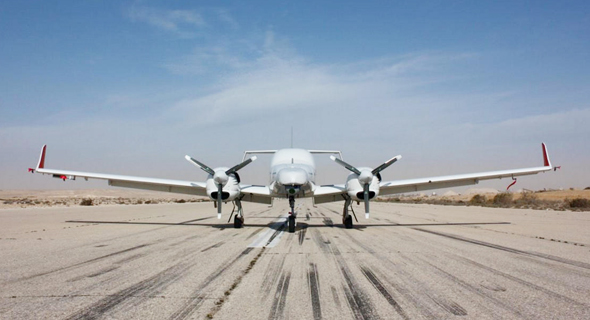 An Aeronautics drone. Photo: PR

On Tuesday, Aeronautics published its first quarter reports for 2019, reporting a quarterly net loss 2.7 times higher than the loss it recorded for the entire fiscal year of 2018, which stood at $1.87 million. Its cash shrunk by 80%, to $3.7 million. Furthermore, the company published a correction for its 2018 annual report, cutting $23 million off its previously reported order backlog, from $228 million to $205 million.

As a result, Aeronautics closed 7.29% down on the Tel Aviv Stock Exchange Tuesday, giving the company a market capitalization of $187.46 million.