Interview
When the Judicial Authority Is Weakened, the Economy Follows, Says Israeli Economist
There is much evidence of the negative effect corruption has on a country's economic prosperity, according to Momi Dahan, head of the school of public policy at the Hebrew University of Jerusalem
There is much evidence of the negative effect corruption has on a country's economic prosperity, and of the positive effect the quality and independence of judicial authority have on economic growth, according to Israeli economist Momi Dahan, head of the school of public policy at the Hebrew University of Jerusalem.

For daily updates, subscribe to our newsletter by clicking here.

On the night between Wednesday and Thursday, a month and a half after the country's general election, the Israeli parliament voted to dissolve itself and set a date for new elections. While Benjamin Netanyahu—who is facing indictment in three different criminal cases—was chosen for a fifth tenure as prime minister, he failed to put together a coalition by the deadline.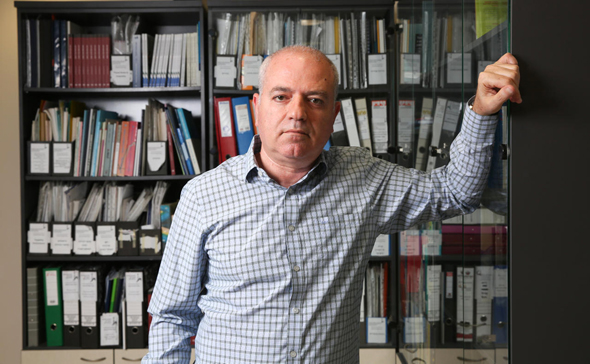 Israeli economist Momi Dahan. Photo: Alex Kolomoisky

There are three aspects that work against the public, Dahan said in an interview with Calcalist held earlier this week. The first is well illustrated in Case 4,000, an investigation into whether Netanyahu assisted Israel's largest telecom company Bezeq with regulatory matters in exchange for positive coverage of him and wife Sara on Walla, a popular Israeli news site owned by Bezeq. It is plain to see the negative effect on the public, Dahan said, as regulatory assistance such as the one allegedly offered by Netanyahu results in costlier products or services.

The second aspect is when certain players receive an advantage over other players that are more skilled or could provide the same services at a lower cost to the public, due to political reasons. The third is when competitiveness is harmed by one player receiving an advantage—due to preferential treatment by those in political power or by the media—and thus that person's ideas shape public policy disproportionally.

In Israel, this is now occurring alongside two processes, Dahan explained. The first is a not always successful campaign to weaken the judicial system, law enforcement authorities, and the independent media. The second is an attempt to weaken professionals in the public service in favor of political appointees.

When journalism weakens, uncomfortable information does not surface, Dahan said. Even if it does, when law enforcement authorities are weak, they will not prosecute and the court will not judge. That is why corruption starts in the parliament, he said, where processes such as those being promoted in Israel today aim to provide lawmakers and government officials with legal immunity. In the long term, the public may come to realize that only those with political connections will receive benefits, and this could have major ramifications on economic growth, he added.

Furthermore, politically-motivated appointments to various positions have a significant economic price because they severely lessen the pool of talented people to choose from, Dahan said.

The odds of a person chosen for a position based on their loyalty to a lawmaker that appointed them being professionally skilled are low, he said. "And of course, if that politician wants to distribute resources unfairly, the odds of a political appointee being able to stop them are minuscule—and so is their ability to act as a public watchdog."

A common statement made by Israeli voters who support the country's current leadership is that Israel's economic situation has never been better. Some go even further to say that while the government may not be squeaky-clean, no politician is, and it is a frog that can be swallowed considering the other benefits.

Dahan believes the enthusiasm over Israel's economic success is exaggerated. "Israel has been standing still for years, in comparison to other OECD countries," he said. If Israel wants to make it to the top ten, history has shown that compliance with political corruption is not the way to go, he added.

An increasingly frequent criticism of the Israeli judicial authority is that by disqualifying rules brought forth by the parliament, it goes against the public's chosen representatives, and therefore the will of the people.

"I'm not against a thorough discussion or even changes to the current power balance between the judicial authority and the legislative authority," Dahan explained, "but any such discourse cannot occur when the legal future of the prime minister is being decided. It can take place after."

Specifically In Israel, where the government members are also parliament members and there is no real separation between the legislative and the executive branch, a strong judicial authority is needed to achieve equilibrium, Dahan said.

The worst-case scenario that could result from the gradual lessening of the freedom and independence of players in the market, Dahan said, is an economic down spiral like the one seen in Venezuela, where the most skilled or more productive people up and leave.

"We are not there, and I don't think we will be there, because Israelis are anything but obedient," Dahan said. "But it is important to understand that even a partial slide in that direction will have a significant economic cost."