Initiative Q Founder Launches Mosquito Tracking Startup
Saar Wilf's Bzigo develops a device that monitors a room using an infrared camera and marks the mosquito's exact location with a red laser once it lands
Initiative Q Ltd. founder Saar Wilf has unveiled his new startup, Bzigo Inc., which develops a device that uses lasers to track and mark mosquitos within a room to help disgruntled humans kill them.

For daily updates, subscribe to our newsletter by clicking here.

Wilf co-founded Bzigo with CEO Nadav Benedek in 2016 and also funded its seed round. The Tel Aviv-based startup's device monitors a room using an infrared camera and marks the mosquito's exact location with a red laser once it lands.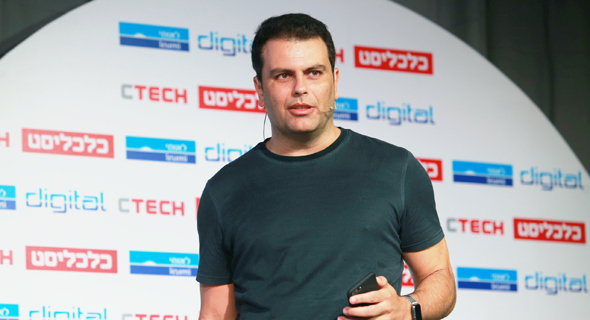 Saar Wilf. Photo: Orel Cohen

To address potential privacy issues, the device only monitors the upper areas of the room, avoiding any sensitive areas, Benedek said in a phone interview with Calcalist Sunday. The device does not save any footage, nor does it store footage online, he added. The device's Wi-Fi capabilities are used to send users mobile alerts through a dedicated app when a mosquito is detected, but can also be shut off to use the device offline.

A mosquito is just one or two pixels in a photo taken from afar, so the device has to monitor movement in real time to identify patterns characteristic of mosquitos and specific wavelengths, Benedek explained.

Last year, Wilf, a serial entrepreneur and investor, founded controversial digital payment venture Initiative Q, based on a digital coin called Q. To get to a critical mass of users before tackling the full development of the infrastructure, Initiative Q incentivized people to pre-register with name and email in exchange for a diminishing allocation of coins, attracting some 7 million pre-registered users according to Wilf. In March, Initiative Q launched a mobile app.