PoV
A Ride in Yandex's Autonomous Vehicle
Yandex conducted the first demonstration rides in one of the autonomous vehicles it is currently testing in Israel during the Ecomotion 2019 smart mobility show in Tel Aviv
A Toyota Prius, decorated with large insignias of Russian multinational technology company Yandex NV, slowed down and came to a stop in the traffic jam at the entrance to Expo Tel Aviv, the convention center where the Ecomotion 2019 smart mobility show took place Tuesday. Restless drivers around it began honking their horns, hoping to speed their entrance, but the Toyota remained silent. Its driver was completely calm and entirely not human.

For daily updates, subscribe to our newsletter by clicking here.

During Ecomotion, I took a ride in one of the autonomous vehicles Yandex is currently testing in Israel. The car's roof is laid with cameras, radars, and laser sensors, and its trunk contains a large computer that analyzes the input and autonomously moves the steering wheel and operates the gas and brake paddles.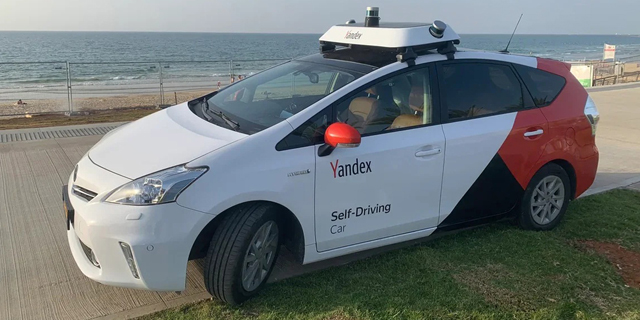 Yandex's autonomous car in Tel Aviv. Photo: PR

A large screen shows passengers the road as seen by the computer, complete with markers indicating the location of pedestrians and other cars. The car is capable of recognizing road markings, switching lanes, signaling, and accelerating to a surprising speed, that is less than characteristic of robotic drivers. At no point in my short ride, did the human driver feel the urge to step in and take over the car's controls.

Yandex began operating in Israel late last year with the launch of the local versions of its taxi-hailing app Yango and its music streaming app Yandex Music. In December, the company announced its intention to test autonomous vehicles in Tel Aviv.

According to the company, a fully autonomous robo-taxi will only hit Israeli roads in about four years.