Analysis
Gett's Measures to Avoid Uber's Fate on the Stock Exchange
Seeing Uber and Lyft's numbers, Gett has come to realize that the private market is unsustainable and problematic at its core
Israeli taxi-hailing company Gett Inc., currently in the midst of preparing for its upcoming initial public offering, has made repeated statements of its intent to achieve operational profitability in all its markets by the fourth quarter of 2019. The company has highlighted its intention to focus on the corporate business sector as a means to achieve said profitability—a feat that, if achieved, would make Gett the first company of its kind to do so. But, as repeated reports pop up of Gett's attempt to sell off New York subsidiary Juno due to its failure to compete with Uber and Lyft, another rival keeps escalating the competition: Russian multinational technology company Yandex NV's taxi-hailing service.
For daily updates, subscribe to our newsletter by clicking here.
According to data published by the Moscow Department of Transport for 2018, Gett controls a 9.4% market share in the city while Yandex controls 56.6%. Citymobil Taxi, another local operator, controls 24.5%. While a 9.4% share out of a 15 million people market is not inconsequential, it is a sharp drop from 2014, when Gett and Yandex split the metropolis evenly between them.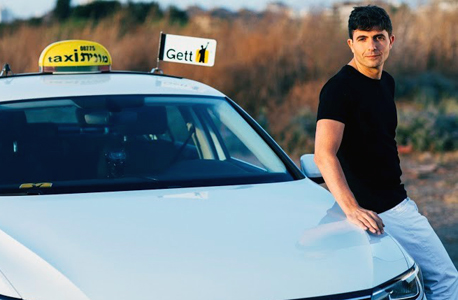 Gett CEO Dave Shahar Waiser. Photo: PR
Gett CEO Dave Shahar Waiser made light of the data following its reveal. In an interview with Russian TV channel RBK, Waiser said Gett is not focused on market share but on quality of service. Once they had achieved that goal, he said, they stopped investing capital into increasing their share. Waiser further stated that as far as he knows, Citymobil lost $50 million last year, while Gett expects to break even in 2019, mostly thanks to its lead in the local business segment.
Yandex's market takeover, however, is mounting trouble for Gett in Israel as well. While Gett still controls 85% of its home turf, Yandex's entry to Israel in December 2018 necessitated the company to take extra care, in light of the happenings in Russia.
Since Yandex launched in Israel under the name Yango Taxi, Gett has started offering several bonuses and incentives to drivers, several drivers told Calcalist. The first change was a shift from monthly to weekly wage payments, similar to Yango's model. The company has also started offering a NIS 400 (approximately $110) bonus to drivers that display Gett's logo prominently, and a NIS 200 (approximately $55) bonus for taking a large number of rides during rush hours.
Approached for comment, Gett has denied that the changes were the result of Yandex's entry, and stated that it has always provided incentives for taking more rides during rush hours. Gett, however, has good reason to up the ante when it comes to Israel—its strongest and fastest growing market, and, currently, also its only profitable one.
Last week a Yandex delegation visited Israel, one of the locations the company has chosen for testing its autonomous vehicles. The executives stated market penetration has been going according to plan but did not expand about the service's adoption locally. At least for now, it seems that Gett is not under serious threat, and has even added 400 new drivers to its service over the past month. Furthermore, the company is still reporting 50,000 new users a month—users who actually book drives and not just download the app.
Despite attempts to carry on with business as usual, Gett understands that, except in Israel, it is the smallest player in each of its markets. In a letter sent to employees earlier this year, Waiser said that Gett might go public as early as the beginning of 2020, right after achieving profitability. Current estimates are that the company will choose the Tel Aviv Stock Exchange and attempt to list at a valuation of at least $1.5 billion—similar to the valuation it received at its last funding round. The company's increased focus on the business market over the private market perhaps hints at the focus of its IPO roadshow.
Gett seems closer than any of its competitors to achieving profitability. According to an investor presentation Waiser made Thursday, Gett lost $13.5 million in 2016 and $9.5 million in 2017, but ended 2018 with a $3.5 million loss. More positive data than the numbers presented by Uber and Lyft—who caution that they may never reach profitability.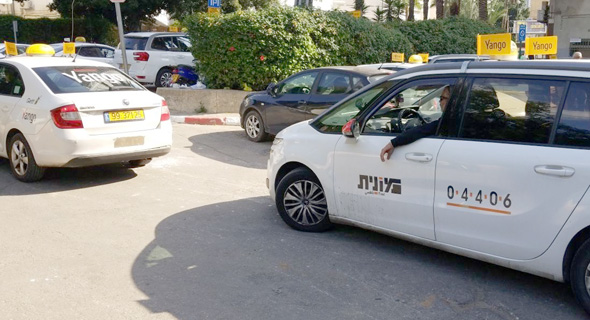 Yango taxis in Israel. Photo: Meir Orbach
Seeing Uber and Lyft's numbers, Gett has understood the private market is unsustainable and problematic at its core, Waiser told investors, adding that while business clients are harder to win over, they are vastly more loyal once won. A business focus, as described in recent statements by Waiser and Gett, will enable the company to position itself as the leading player in a more profitable segment and also help it disassociate somewhat from the negative sentiments that now surround the various ridesharing companies that just keep losing money.
To accelerate its entrance into the corporate business market, Gett raised $120 million in equity and debt financing from existing investors in May bringing its total funding to date to $790 million. The company currently counts as corporate clients 26,000 companies, who made 3.2 million rides between them in 2018, constituting 81% of Gett's revenues. While private clients still contribute 100 million rides annually, they generate much lower revenues. Waiser told investors Thursday that half of the Fortune 500 companies are already clients.
While the data seems promising, the upcoming IPO still raises several questions: will Gett manage to achieve profitability by the end of the year? If it does, is that what investors actually want? And, what is more important to investors in a company of Gett's sort—rapid growth, or profitability?
On one hand, the lukewarm reception of Uber and Lyft has proven that growth alone, no matter how impressive, is not attractive enough without at least a concrete promise of profitability. On the other hand, there are more than a few analysts in the tech industry that say that a company, even if profitable, will not last long if it is lagging behind the market leaders.
According to Waiser, market response to Uber and Lyft could be taken to mean investors will look favorability on a company like Gett, which is increasing both its business and its profits.
Gett previously forecasted it would achieve profitability in early 2019. There are a few reasons why it did not, among them increased competition with the cash-flush Yandex in Russia that forced Gett to up driver wages. Yandex, which recorded almost $2 billion in revenues in 2018 and a net profit of $660 million, overpowered even Uber on Russian turf.
So, how much is Gett worth? It seems Waiser's main pitch is to convince the market that Gett is not another Lyft, Uber, or Yango, but more of a subscription-based app—meaning that while its growth is slower, it is more stable and more profitable.
According to the latest financial reports filed by Stockholm-listed Vostok New Ventures Ltd., which holds a 4% stake in Gett, the fund maintained its previous valuation of $1.4 billion for the taxi-hailing company. The fund further disclosed its participation in Gett's two latest rounds, in which it invested $2.3 million and $16 million, respectively, to maintain its current share.
In its filings, Vostok described Gett's expenses and growth rates as similar to Dubai-based Careem, which has operations in 14 countries in the Middle East, Africa, and South Asia, and was acquired by Uber in March for $3.1 billion. The fund, therefore, sees the potential for Gett to double its valuation and further stated that when applying Lyft's multiples for just the Israeli business of Gett, the valuation is at $1.4 billion, meaning the company's three other markets also have the potential for increasing the valuation.