In Depth
In Israel, More Waste Just Means Bigger Trash Bins
Producing 20% more waste than the OECD average, Israelis have developed a new obsession with big, high end, smart garbage cans
Anyone recently traveling on Ayalon Highway, one of Israel's major traffic arteries, could not help but notice something has changed. The giant billboards on the sides of the road, normally featuring supermodels, now showed an oversized photo of a trash can. The catchy slogan read: "the trash can is now in style."

For daily updates, subscribe to our newsletter by clicking here.

This is not an empty anecdote. Israel is undergoing a trash can revolution, in which the simple garbage disposal container has become a fashion statement and a status symbol.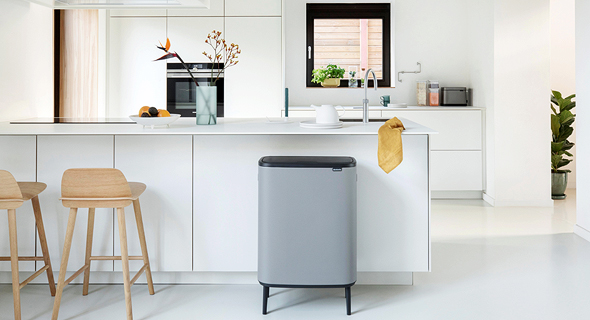 A garbage can by Dutch company Brabantia. Photo: D.C. Pack

Up until recently, a garbage can was just a bucket with a plastic bag inside, typically hidden in the cupboard under the kitchen sink, while larger trash cans were reserved for professional cooks. These days, when everyone is a semi-pro home cook, super-sized garbage cans have won a place in the homes of the country's middle and upper classes.

An online search for garbage cans yields hundreds of results, all too big to fit in the traditional spot under the sink. If in the past, a standard garbage can had a capacity of 15 liters, the new models hold between 30 and 65 liters of garbage.

"We are seeing a meteoric rise in the purchase of large trash cans in the past few years," Jacob Ortas, CEO of Ilve Israel Ltd., the authorized importer of Italian boutique kitchens brand La Cucina, said in a recent interview with Calcalist.

As is the case with smartphones, the higher its capacity, the more expensive the trash can gets. La Cucina offers two bin sizes—60 liters for NIS 2,200 (approximately $610) and 80 liters for NIS 2,400 (approximately $666), according to Ortas. Designer trash bin brand EKO, the one from the billboards, goes for between NIS 300 (approximately $85) for a regular bin and NIS 1,100 (approximately $305) for a bin equipped with a sensor that automatically opens the lid.

Garbage cans in Israel are way bigger than in Europe, Hezi Darwish, co-owner of BRASS, the local distributor of garbage cans produced by Dutch company Brabantia Branding BV, said in a recent interview with Calcalist. "We have bigger families and we also produce insane amounts of garbage," he said. Unlike in Europe, in Israel, there is no waste sorting system and Israeli consumers enjoy buying a lot of things they do not need, Darwish said. "These items have to go somewhere and this is how large bins became so popular," he added. "When we were kids, everyone used 15-liter bins, but they also used reusable milk bottles and hardly any packaging," he said. "Today, we are flooded with single-use packaging and that takes up a lot of space, and a smaller bin just isn't enough."

Darwish speaks from his own expertise. His main business, BRASS' parent company D.C. Pack Ltd., manufactures paper and plastic wrappers as well as disposable kitchen utensils. In Israel, disposable cups are used more often than regular cups, he said.

Israelis do in fact produce much more waste than people in other developed countries. The average Israeli produces about 610 kilograms of trash a year compared to about 500 kg on average in other OECD countries, according to data from Israeli advocacy group the Israel Union for Environmental Defense (also known as Adam Teva V'Din). Producing 20% more garbage makes the Israeli obsession with disposal bins less surprising, according to Amiad Lapidot, head of sustainability and recycling at the organization. "Everything is wrapped in plastic here, from vegetables to even the smallest items, and the garbage just keeps piling up," he said. The amount of trash produced by a single person each day grew by 6% in the past decade, from 1.63 kg in 2007 to 1.72 kg in 2017, Lapidot said. The average family makes 3.17 kg of garbage a day and the volume of garbage, not just its weight, is also increasing, so it takes up larger bins and in the future might even require more than one, he said.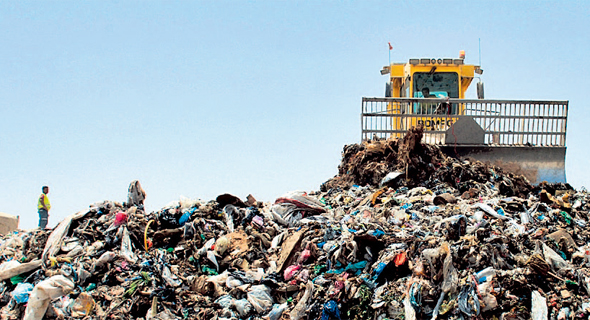 A waste disposal site in southern Israel. Photo: Haim Hornstein

It would seem that Israelis are addicted to sanitation and obsessive towards cleanliness, at least within their own households—they use sterile disposable dishes and utensils, never touched by another person, and their waste must vanish from sight immediately, preferably without them having to touch it. Automatic garbage cans, enforced with super strong plastic bags, help them forget they ever produced the garbage—out of sight, out of mind.

"We are garbage people, but Israelis are in denial of the fact that they produce waste," Rony Avitzour, a partner at Tel Aviv-based architecture firm XS Studios, which specializes in small urban living spaces, said in a recent interview with Calcalist. "When designing kitchens I noticed nobody ever thinks about where the garbage can is going to go and when the subject is raised clients think they can do with a small bin under the sink," she said. "In Israel, people buy more and cook more so a small bin doesn't cut it." The result is that within a year or two, every kitchen Avitzour designs gets a huge garbage can that stands in the middle of it. "You don't see kitchen catalogs with garbage cans on display, even if they look good," she said. "It is time to start recognizing the issue and designing kitchens with bigger bins in mind."

It is not surprising that most high-end trash bins are made of stainless steel, like other expensive kitchen appliances. They come in various designs—elliptical, round, square, or rectangle—their finish is exquisite, making them a piece of furniture for all intents and purposes.

"It is just garbage, but people always want the most exquisite item that looks best," Darwish said. "The difference between a regular trash can and a designer bin is like the difference between a Hyundai and a Mercedes," he added. People spend a fortune on designing their kitchens, which today are often directly connected to the living room, so they will not try to save on a garbage can that could ruin the whole look, he explained. "People are willing to pay a hefty price to be able to put the garbage can right next to the living room without it being an embarrassment."

"We use our garbage can more than any other product," Shai Israeli, the official importer of EKO said in an interview. "Without even noticing, we open it more often than we do the refrigerator or the oven," he said. Israelis produce a lot of garbage but nobody wants to take out the trash more than once a day, so large bins became a trend, he added.

If garbage cans are trendy, people are going to want to replace them every two years, so they will not feel outdated, Ronny Daniel, a director at nonprofit The Israeli Green Building Council said in an interview with Calcalist. "If you have an old, ugly garbage can you might keep it for 20 or even 30 years, but if you have a new one, you'd want it to remain 'in,' and this might also encourage you to produce more trash," he said. "After all you didn't just spend all that money on a bin for nothing."

Technology also has a role in turning the garbage can into a wanted gadget. In the past, the greatest sophistication when it came to trash bins was a pedal that meant you didn't have to use your hands to open and close the lid. Now, garbage cans are equipped with sensors, led displays, and batteries.

One feature, however, still echoes the gadgets' original purpose—deodorizing tablets, meant to dull any potential stench from the giant garbage pail hidden inside the designer bins.